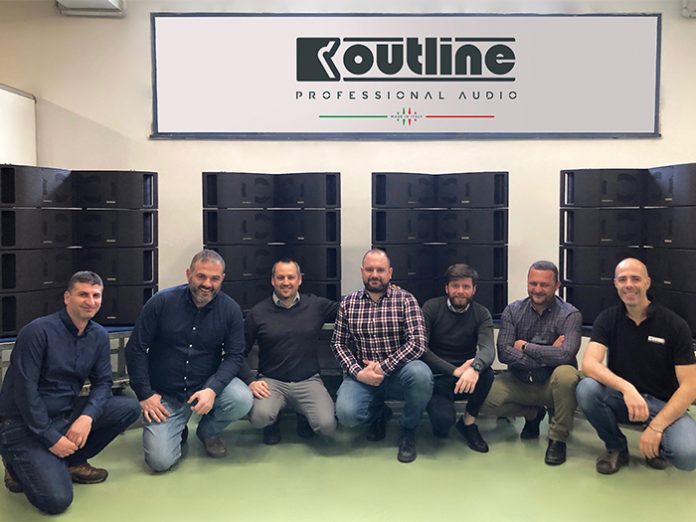 Headquartered in Tirana, ASLV (Albanian Sound, Lighting and Video) has operated nationwide since 2013 and, with its team of highly qualified staff, provides sound, lighting, video, staging and structures, as well as creative technical solutions for concerts, festivals, theatre and opera productions, key corporate events, expos and more throughout the country. Specialist services also include consultation and design.
Recently appointed as exclusive Outline distributor for Albania, following its corporate policy of ensuring its clients equipment that is technically the best for perfectly meeting their requirements, ASLV has also taken delivery of an Outline Superfly Silver audio package, one of the three turnkey set-ups conceived in recent months by the Italian audio manufacturer.
Superfly loudspeaker systems have a true three-way (HF-MF-LF) design, but the dual high-efficiency 10" transducers in the LF section are powered individually, significantly enhancing low-frequency performance. The midrange and HF components (dual 8" drivers and a single 3" compression driver) are the same as Outline's GTO series, resulting in remarkable performance figures.
Outline Product Manager and Business Developer Fernando Rey Méndez explained: "The three configurations ensure the best ratio between loudspeaker and amplifier quantity, thus becoming excellent investments with a fast economic return. They also guarantee an optimal combination between different kits of other Outline product families, such as GTO kits and Mantas 28 kits".
ASLV's Superfly Silver configuration is ideal for sound reinforcement in venues with a capacity of between one thousand and three thousand spectators, with a high size: power ratio. It comprises 16 SFLY 210 three-way high-power DPRWG line array elements, eight DBS 18-2 very high-power subwoofer systems, with twin 18" woofers, and four LIPF-082 two-way front-fill loudspeaker enclosures. The amplification and control set-ups consist in four 4U touring racks with GTA-Otto amplifiers and a Newton 4U touring rack with Outline Newton 16+8 multi-source FPGA processor. Frames and loudspeaker cables, flight cases, weather protection covers and trolleys are also included in the package.
ASLV's impressive regular client roster includes the National Theatre of Opera and Ballet, Tirana Municipality, Vodafone and Tirana International Airport. The countless high-profile events on which ASLV has worked include concerts by Anastacia and the Original Blues Brothers Band, world-famous operas such as Bizet's Pearl Fishers, Bizet's La Bohème and Verdi's Il Trovatore and other top-grade productions, such as the Marie Kraja International Festival of Operatic Singers, the Miss Albania contest, Ballet on Ice and the 2020 celebrations of the 100th Anniversary of Tirana's nomination as the capital of Albania in the city's Mother Teresa Square.
ASLV Owner, Florind Tenolli stated: "We chose the Outline brand following the advice of specialists in the audio sector, who strongly recommended it, and without doubt it will result in an increase in audio quality at our indoor and outdoor live and concert events in particular."