Farming showcase Cereals should have been taking place in Duxford this week. However, due to the ongoing COVID-19 pandemic, it has been unable to go ahead in its physical form this year. Instead, the event's organiser, Comexposium, hosted a virtual event Cereals LIVE 2020 with a programme that covers all the key demonstrations, exhibitors and seminars.
Regular exhibitor, John Deere participated and shared an exclusive preview to select customers on 9 June 2020. The online demonstration highlighted key feature updates to three of its best-selling machines and the benefits of its 'My John Deere' technology live to an audience of 250, utilising a purpose-built studio, presenters, state-of-the-art cameras and live streaming technology, delivered by its long-standing exhibition and audio-visual partner OneBigStar.
With several new technological advancements added to four of its most popular models, the leading manufacturer of farming machinery was keen to demonstrate the updates to buyers in as live an environment as possible. OneBigStar with its extensive inventory of technical production equipment and expertise in live events, was uniquely placed to design and develop a solution that allowed John Deere to deliver an innovative and fully interactive showcase of its machines.
Reacting to the new situation and an inability to attend live events, OneBigStar designed a purpose-built studio to deliver an environment that was on-brand and to the standard that John Deere's customers would expect. Working in-conjunction with John Deere's existing webinar platform, OneBigStar added video, audio and additional lighting, along with a mezzanine level to its recently fitted out Display Floor Showroom.
Key to the demonstration's success was the use of OneBigStar's fully integrated PTZ camera system, requiring only one operator to shoot multiple angles and integrated software to ensure that the footage was broadcast live and uninterrupted. The live feel of the event was of paramount importance to John Deere and introducing a Q&A segment after the product demonstration allowed viewers to engage directly with the presenters and receive real-time responses.
The entire project was delivered within a framework of COVID-19 safe working practices. This included maintaining social distancing for crew during the install and de-rig; presenters and John Deere's staff members, they made use of disposable single-use microphone windshields and earpieces for the in-ear monitoring systems. There were strict procedures for the management of the personal equipment and the presenters each had their own sealed bags to store equipment between rehearsals.
Steve Yeardsley, Managing Director of OneBigStar said: "We've been delivering John Deere's exhibition stand at Cereals for the last 8 years. Although this year's show took the form of a virtual rather than physical form, there was a real desire within John Deere's sales and marketing team to share and demonstrate model updates to its core customer base on a personal level.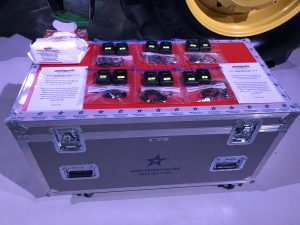 He added: "In the same way as we normally would, we listened to what the team were trying to achieve and their objectives and set about creating a solution that would allow them to do just that. Given the need to demonstrate the new features and the requirement for interaction from the audience, including a live element was vital for engagement. We also needed to ensure that our crew, John Deere's staff and presenters were all safe given the ongoing threat of contracting COVID-19. We've all had to review and adapt our working practices over the last three months. Even before the lockdown we'd started to look at our kit and think about cross-contamination and the use of disposable or single use accessories."
John Deere's Branch Tactical Marketing Manager, Chris Wiltshire added:  We have worked with OneBigStar on many events throughout the years, their professional attitude, design skills and ability to deliver on-time, every-time make them our first choice for our exhibition and production needs. This event was no exception, charged with the brief to deliver a streamed event under such strict conditions proved no problem for their team and I am delighted with the end result, we have received praise from the delegates and this has proved to be a great resource for both data capture and feature development."