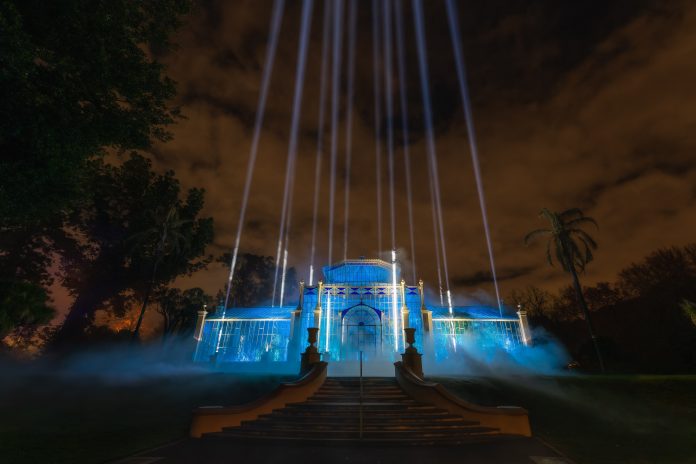 AV production company, Novatech Creative Event Technology provided technical expertise and Elation's Professional IP65-rated Proteus Hybrid moving heads for Illuminate Adelaide – an immersive winter event in Adelaide, Australia.
Billed as a celebration of innovation, music, art, light and technology, Illuminate Adelaide lit up the city with a programme of events. As presenting partners, Novatech was the technical supplier of the event's signature project – Light Cycles. Illuminate Adelaide engaged Montreal-based multimedia studio Moment Factory for the creative, design and immersive content while Novatech provided all the gear and crew.  
As a featured artist at the new annual event, Moment Factory took over Adelaide Botanic Gardens with Light Cycles, an outdoor digital art experience that used light and music to amplify and transform the beauty of nature. Light Cycles led visitors on a magical night time journey through nearly two km of the garden's lush gateways and luminous canopies. The immersive experience included dynamic soundscapes and video and light projections, including striking lighting effects from Proteus Hybrids at The Hearth. 
Inspired by the timeless power of the bonfire, The Hearth was a gathering place set against the botanic gardens' iconic Palm House greenhouse. Colourful, ever-changing beams of light from 12 Proteus Hybrid luminaires intertwined with an instrumental soundscape to evoke the beating heart of nature, while a chorus resonated across the lawn. The sequence, which ran on a 5-minute loop, was the last of seven zones that visitors walked through and was designed to leave a lasting impression.
"The Proteus Hybrids were a good choice for this installation as their IP status allowed them to be out in the Adelaide winter for six weeks, which faced an unusually wet and windy winter," stated Novatech Creative Event Technology Director of Sales and Marketing, Ashley Gabriel. "They also provided the necessary punch for a beam fixture that due to the moisture in the air, really did throw an incredible beam to create the desired effect."