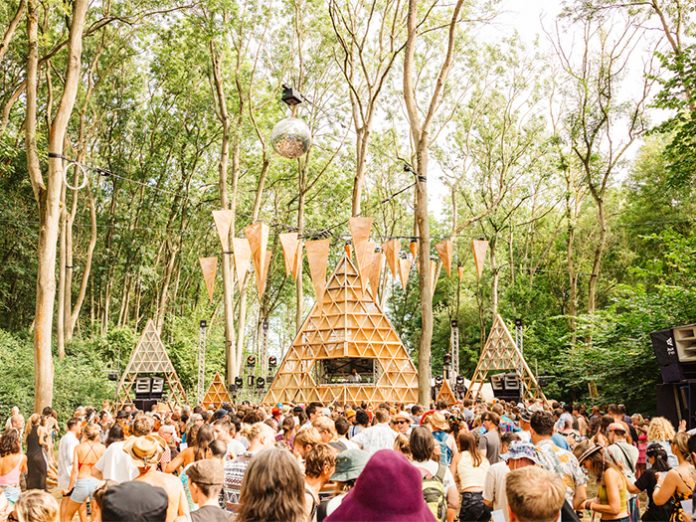 Noisily Festival made its return to Coney Woods in Leicestershire on 6 to 9 July 2022, following two years of postponements and said an emotional goodbye to its home of the last nine years with an unforgettable send off. The 7,000-capacity festival featured Funktion-One sound systems across the site – including a special surround sound setup on the main stage.
Noisily's production team once again teamed up with long-term collaborator and Funktion-One rental partner, Audio Feed, who has supplied the festival's sound since it began in 2013.
Noisily's Will Hazlerigg explained: "The sound is, of course, a top priority. We're called Noisily, so we need to be loud, but we also need clarity and that's one of the reasons why we love Funktion-One. You can have loud and clear, and still be able to have a conversation on the dance floor. I think a lot of people instantly recognise a Funktion-One sound system – they have a visual impact, which certainly adds an edge. And then there's the headroom and the clarity."
Over the years, the Audio Feed team, headed up by Oz Jefferies, has become integral to the festival's success. Hazlerigg continued: "We have Oz who, in my opinion, is one of the best engineers I've ever come across. His team makes something that already sounds good, sound even better. I'm in awe of what they are able to do. You can tell when he's tuned a sound system – there's tuned and then there's tuned by Audio Feed."
Intent on growing the main stage capacity, Hazlerigg and Jefferies conspired to create a special 'octophonic' sound system – comprising two adjacent quadrophonic loudspeaker arrangements. Working on the principle that quadrophonic sound systems are effective up to a maximum 25m spread, the duo developed a set-up using combinations of two Funktion-One Evo 6E mid-high and two F124 bass in eight different locations to form two adjoined squares of quadrophonic sound.
To ensure a successful execution, tests were carried out at Bournemouth Rugby Club during summer 2021 and JCB diggers were needed onsite to ensure the loudspeaker stacks were level. These efforts were repaid with a truly immersive sound.
"It definitely did the trick. When you get people like Eats Everything and John Digweed telling you that it's one of the best sound systems they've ever played on, and those guys have played on a hell of a lot of sound systems, then it confirms how good it was," Hazlerigg revealed.
Eats Everything, who closed the main stage on Friday night, took to social media the following morning to give a special shout out about the festival and the sound: "Just wanted to give a big up to Noisily Festival last night – amazing place, beautiful sound system. The best festival sound system I've ever heard and the crowd were just wicked. Thank you Noisily for having me, hopefully see you again next year."
John Digweed was also impressed: "The sound was unbelievable, particularly for a festival. Clean, clear and loud but you could still talk. Nice sub bass as well."
As Sister Sledge's We Are Family played in unison on all stages to close the festival, the strength of the Noisily community – which rallied with a crowdfunding campaign and ticket rollovers to help keep it afloat – had its moment after the frustrations of the last two years.
"At the end of the day, without the crowd, without the Noisily family who saved the day and got us through Covid, we wouldn't be here," concluded Hazlerigg. "Every single person was singing along, having a great time. It was a really special moment."