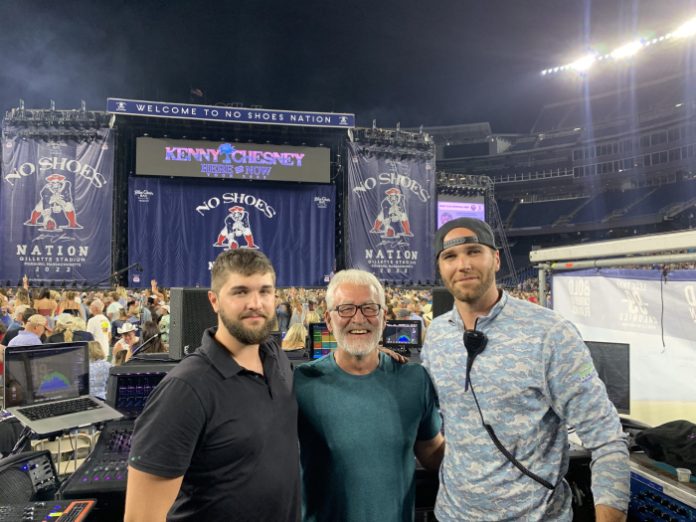 Comfortably the top-earning country music tour of 2022 and one of the highest of any genre last year, Kenny Chesney's Here And Now Tour grossed over $135m and saw him perform for 1.3 million fans across 41 shows, including 21 stadia, making him the most popular touring country artist of the year. 
The tour was originally scheduled to take place in 2020 but was, like so many, derailed by the global pandemic. Chesney eventually moved the tour to 2022 and named it after his album of the same name, bringing support acts Dan+Shay, Carly Pearce and Old Dominion with him. The tour closed in Foxborough MA with two sold-out shows that hosted a total of 122,000 fans.
Clair Global deployed a major audio system for all the concerts, using a combination of their Cohesion CO-12 and CO-10 line-array enclosures and CP-218 subwoofers. The three support acts used Avid, SSL and DiGiCo consoles, while Chesney's FOH Engineer, Rob Scovill used another Avid S6L alongside an Avid S6L 24C redundant desk.
Scovill is one of the touring world's most experienced engineers, with a portfolio that includes Tom Petty And The Heartbreakers, Matchbox Twenty, Prince, Rush, Def Leppard and Alice Cooper. A six-time TEC Award winner, his work with Chesney landed him FOH Engineer Of The Year at the CMA (Country Music Association) Awards and has also earned him a nomination in the same category for the 2023 Parnelli Awards.
The Here And Now Tour was the first on which Scovill has worked with [Outline] Newton FPGA processor and he commented: "Kenny Chesney's legendary stadium tours are more akin to a travelling festival in that, hosting multiple acts with headliner pedigrees during a show day, they become a case study in signal management and workflow, especially so at FOH."
"Outline's Newton provided us a very elegant and hassle free way to onboard multiple AES signals from multiple digital consoles to the Dante network for the PA drive that was designed and implemented by Dave Shatto and Clair Brothers. I'm very impressed by this platform and I can't wait to dig in deeper with it for future tours."