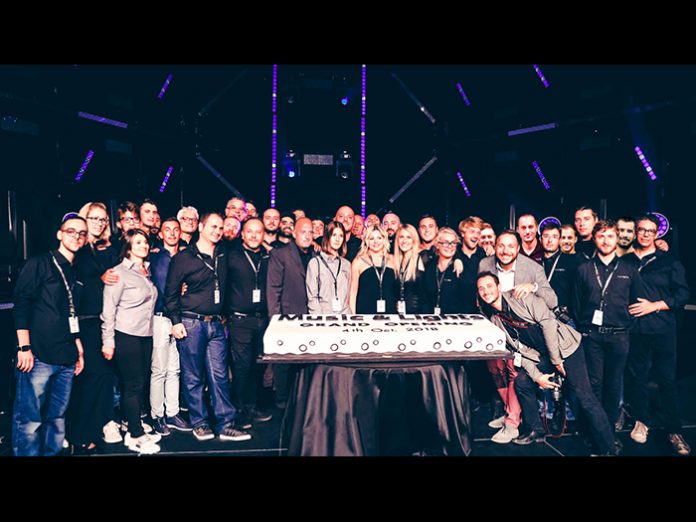 Music & Lights celebrated the official opening of its new headquarters, dedicating a day of exclusive celebration for customers, partners and international distributors.
The new Headquarter represents a further phase of development, with over 40.000sqm surrounded by greenery and with a covered area of 10'000sqm, which brings together offices, research and development, production, laboratory and logistics.
An organisation that has acquired over the years a growing international reputation, with its brands that today are at the top of the professional industry of Audio-Video-Lighting, an industry in continuous updating and technological development.
This innovation played a central role in the Distributor Conference, held on the morning of the event and reserved for the international sales network.
Then, in the afternoon, the doors of the new exhibition areas opened up; a complex of over 1000sqm, including a stage set up with 700 PROLIGHTS and TRIBE fixtures, Loudspeakers DAD, PROTRUSS facilities and a showroom, where the main solutions of each brand are represented.
"Our solutions are today the ideal partner for every type of event, and our development projects, determine a continuous growth of professionalism and innovation. As a group we are engaged in the search for new technologies and an ever-increasing focus on the needs of the market", said Managing Director Fabio Sorabella.
Francesco Sorabella, M & L President commented: "After more than 25 years in the entertainment sector, we are proud that Music & Lights is among the most successful companies in the sector. In the last 10 years, the company has grown considerably and all this is a source of motivation that pushes us to overcome and to continually challenge the status quo".
We have not only talked about technology and innovation but also about professional training. In the future of M & L there is the educational development of training courses within the Academy; that as of October 25, 2018, will host a day dedicated to the world of professional video.
The Music & Lights – Grand Opening concluded with a show dinner that welcomed over 1,000 professionals, customers, distributors and international guests, who were able to attend a great show of lights and music.