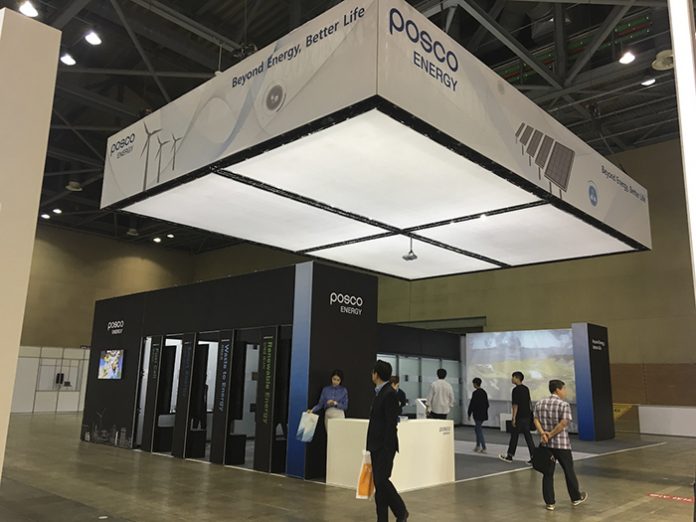 MILOS recently designed and delivered Xtruss components for the Posco Energy booth at the Korea Energy Show.
Xtruss is a series of truss accessories that allow for the quick and easy attachment of various elements to truss structures. In this case, Xtruss allowed for the high quality and modern attachment of fabric graphics on the truss structure at the Posco Energy booth, which helped it stand out from other companies at this important Korean energy exhibition.
The long time MILOS client in charge of this project was International Service Business (ISB). ISB is a well-established Korean company that distributes MILOS products in Korea and Japan, as well as specializing in advertising and marketing events in the region.
"The reason for using the MILOS Xtruss components was to be more eco-friendly, save time and eliminate the use of wood, which is normally used for securing textile elements on truss structures," said Sang Young Ahn, CEO of ISB. "In fact, thanks to the use of Xtruss, no trash was generated from the booth and the fabric graphics were recycled."
The MILOS design team worked closely with ISB to ensure the Xtruss components would fit safely and securely on Posco's truss structure and provide seamless integration of the fabric graphics.
Ahn concluded: "The end result was really spectacular and Posco Energy was very impressed. In the end, the exhibition was a big success for our client and we plan on offering Xtruss to more exhibition design companies this year."