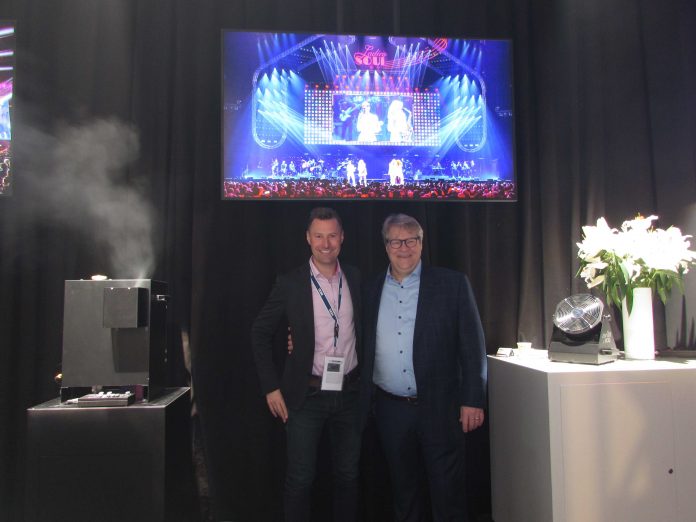 MDG celebrated Prolight+Sound 2019 in Frankfurt with the first presentation in Germany of its IP55-rated WPE Series of fog and haze generators. The ATMe WPE haze generator and Me1 WPE and Me2 WPE fog generators are rugged, non-stop, variable output, outdoor versions of their highly successful counterparts.
Housed in new black enclosures, the WPE Series has been designed to encase all the benefits of standard MDG haze and fog generators in a sturdy, yet discreet, black housing that can blend unobtrusively into a stage set up, indoors and outdoors. The WPE Series provides the ideal fog and haze solutions for theme parks, outdoor laser shows and the enormous number of outdoor festivals around the world.
"The reception to the new WPE units was fantastic," said Martin Michaud, MDG CEO. "Our European customers were very happy to see that the controllability, output, ruggedness and ease of maintenance they know in standard MDG generators is now available in weatherproof and dust-resistant housings for all kinds of outdoor use."
The stand was packed with visitors for the duration of the show who witnessed demonstrations of a range of MDG atmospheric effects which included the full Me Series of fog generators, the ATMe haze generator and the award-winning theONE dual mode haze and fog generator. Also drawing the attention of young and old was the ICE FOG Series of low fog generators which were demonstrated in conjunction with a D-Verter and, to the amusement of young and old, the award-winning RFP Round Floor Pocket.
Unique to MDG, D-Verter is a DMX/RDM pneumatic 23 cm (9") input/output fog switcher designed mainly for use with ICE FOG Q or ICE FOG Compack. It performs several functions by using a sliding conduit either to split a single source of the fog into two distinct outputs, merge two separate sources of the fog into a single output, or act as a fog output gate.
RFP Round Floor Pocket is a DMX/RDM-operated pneumatic Round Floor Pocket of rugged construction which can be embedded in the stage floor or set wall to conceal a fog output. It is intended to operate under pneumatic pressure as part of an existing fog system, delivering low fog or fog to precise locations.
MDG was also happy to welcome back Nicolas Duhamel who has re-joined the company as Marketing Director and European Business Development. "I am very happy to be back at MDG and to have the opportunity to develop the brand further in Europe," said Duhamel. "The show has been a great start to my role by introducing me to the European market. Prolight+Sound is always a good opportunity to meet with our international distributors and customers, and showcase our latest products face to face. This year has been very successful for us with new distributorships agreed in several European countries."