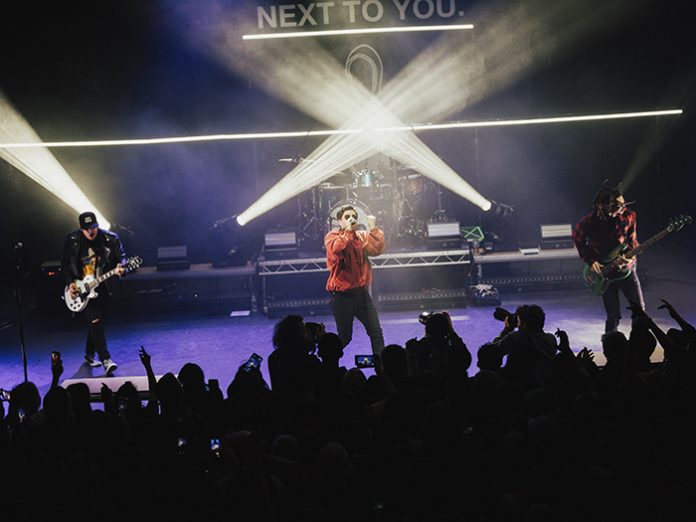 Hayden Borgars has covered a broad spectrum of shows during his career as a lighting designer, including a wide range of music genres, corporate, dance and theatre.
Most recently he joined forces with American rap artist, Hoodie Allen (real name Steven Markowitz) for a British and European tour, at venues ranging from the 700-capacity Garage Glasgow to 2,000 Shepherds Bush Empire.
Travelling with him throughout was an inventory of 18 VDO Sceptron 10, four MacEncore Performance Colds and two AURA XB, which combined as the cutting-edge Martin Professional lighting package, supplied by rental company, Siyan.
The tour was set up essentially as a pre-album promo tour in advance of Hoodie's next album release.
Given the nature of the venues, Hayden drew on his vast theatre experience where he'd deployed Martin fixtures previously, generally the Mac 250's. For this show, he was able to create the same dramatic effect to complement Hoodie's performance.
Hayden used the Aura XB's as a sidelight downstage, while the Sceptrons were mounted on a goalpost pipe located upstage as a central set piece, and the Mac Encores were on risers either side of the drum kit.
He explained: "Being the first time I've worked with a Hip-Hop artist I wanted to try something different. By using a spot fixture, I was able to bring in something extra that you don't often get to use outside of theatre whilst combining it with some classic hip-hop style lighting.
"The colour mixing and dimmer curve on the Mac Encore Performance Colds is really impressive. The blues, cyans, whites and colour temperatures really stood out on particular when I had a demo at the Harman UK distributor, Sound Technology Ltd. The colour output, flexibility and range of features were a crucial factor in choosing this fixture in my design."
Borgars took advantage of the Mac Encore's animation wheel, building in a combination of horizontal and vertical effects that added to a particular look, especially with the animation effect running across a gobo.
He explained: "This feature worked brilliantly especially with one of the slower acoustic songs in the set. I created a 'mirrorball-esque' effect using the dot gobo rotating and the vertical animation running over it.
"Added to that the huge amount of effects built into the Encore's two effect wheels and it gave me so many options creatively, not least the animation options, which also added a unique quality by running a chase across individual LED segments within the fixture".
Despite this being the first time Hayden had deployed Sceptron and the P3 Controller, Martin's easy to navigate P3 platform enabled him to quickly achieve his creative goals for the show. He explained: "Hoodie had specified Sceptron for the tour after he'd seen a friend, Bruce Vine, use it on his show. I found it very easy to programme. Sound Technology, Martin Professional and Siyan were all on hand to help with any queries, it really was a smooth process."
The Martin Aura XBs were specified by Hayden to wash the set with colour and highlight Hoodie and the band on stage. Borgars explained: "I am impressed by how compact and lightweight the Aura XBs are, plus the light and the colour output is always reliable."
Commenting on the reliability of the Martin fixtures, Borgars enthused: "They gave me peace of mind throughout. There were no issues at all! Creatively it's the versatility of the Mac Encores that helped achieve my goals. I discovered so many features when I was programming that really the sky is the limit
"Whether we needed a tight beam for a slow paced song, aerial gobo effects or simply as a backlight spot for Hoodie, the Mac Encores made the grade! In fact the Martin fixtures just performed, and did more that I could have asked for."