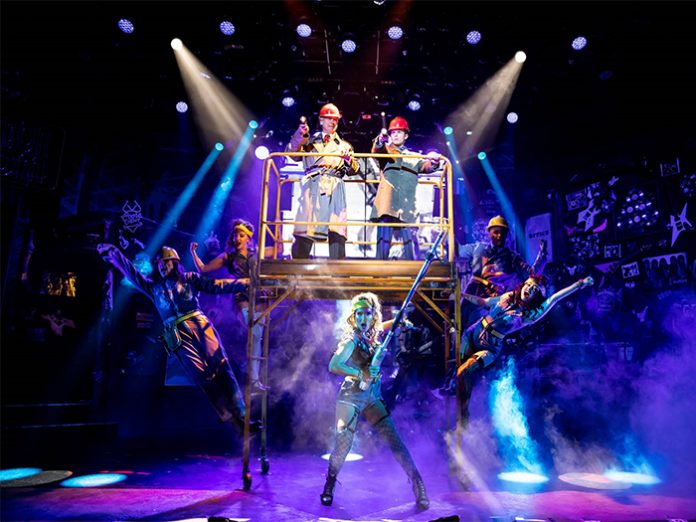 Lighting Designer, Jason Lyons has been lighting the Rock of Ages since its storied 2008 New York debut. "Back then it was a bit of an experiment," he said. "We didn't really know what we had and it exploded from there. It's one of those rare shows that people can go back to over and over again and still have a really good time. I think that's part of its success. You find new moments to enjoy every time."
The recent Rock of Ages Revival at New World Stages in New York City was a resounding success, just as it was in its 2008 Off-Broadway debut at the same theatre prior to its successful six-year Broadway run. The Revival show opened last June and after originally being scheduled to close in September was extended for an open-ended run, eventually shutting down when Broadway went dark in March.
For the uninitiated, Rock of Ages is a jukebox musical that tells the story of a rock 'n' roll romance on the Sunset Strip during the glitz and decadence of the '80s. When the Bourbon Room is set to be demolished (the local bar where most of the action takes place), it's up to wannabe rockers to save it. With a score that features some of the biggest classic rock hits of the '80s, this hilarious, high-energy 80's-era satire has evolved into a theatre classic.
Lyons has been using Elation Professional's Artiste Monet on the revival (supplied by Christie Lites), his first time working with the award-winning LED profile moving head and a significant upgrade from what he was using on earlier incarnations of the show. "I was really excited to use it for Rock of Ages in particular because over all the years of doing this show, from way back in 2008, we have used older fixtures. Back then, we were just trying to get as much as we could for as cheap as we could so it was nice to have a reliable, cutting-edge fixture like the Monet. We really didn't know what the show was back then, but we did know it needed that 80s rock feel."
Lyons called those early runs of the show a maintenance nightmare. "It looked great but the electricians had to do an amazing job to keep it up and running," he said. "On every production from Off-Broadway to Broadway to all the international tours, those fixtures would get beaten up and every performance report was full of things to fix. When we came back to revisit it, I wanted to hang on to the aesthetic of the show but I needed it to be maintainable."
The lighting that he was replacing with the Monets was the workhorse system of the show that was doing the most work. "It was really important for me to find a fixture that not only had the firepower and all the attributes that I needed to make the show work but would also be something that could handle the everyday rigor of doing such an intense show, something long lasting that the crew could easily maintain," the designer stated.
After consulting with Elation National Sales Manager John Dunn, which included a demo of the Artiste Monet up against other LED driven fixtures, Lyons was pleased with what he saw. "I was blown away by the output actually; it was outrageous, so bright, and the quality of the white that came out of it was really nice. It was much better than some of the LED driven fixtures I had seen before. Then we added in the SpectraColor mixing system and I got really excited. To have CMY and RGB with colour correction over the top of it, it was fun to play with and opened up a whole different level of colour mixing and detail that I feel we've always lacked a bit with just CMY."
SpectraColor is Elation's proprietary colour mixing system that combines CMY with RGB flags and variable CTO to produce colour combinations that have traditionally been hard for LED luminaires to achieve. "It produces better nuances of colour and richer colours," the LD stated. "Having the RGB solid flags give you a much better depth of those particular colours, allowing both the depth of colour and the specificity of tints."
Twelve overhead Artiste Monet units are arranged in a pseudo diamond configuration that follows the shape of the main set bar and are used throughout as lighting beasts of burden. "We use them for so many different things from carving out certain areas of the stage with the framing shutters, to really powerful open-white backlight and downlight spots, to full stage template washes and effect moments." As the show is essentially a rock musical, Jason also used them for air effects moments. "I found myself pulling them back a bit," he said, "especially in the open white moments, which isn't something I have ever done with this show before. What was great was being able to then use that to effect as well. To then hit it to full and get that extra punch was a fun feature to play with."
Other lighting fixtures, many of them also from the Elation catalogue, join the Artiste Monet in the rig. These include SixPar colour changers doing backlight specials on the band and on scenic doors, as well as sidelight for extra colour on set. Lyons said he even used the fixture's UV functionality for interesting toning. Super compact ACL 360i single-beam moving effects are peppered overhead with a handful on an upstage handrail under a backing video screen and under the band platform.
Lastly, ZW19 and ZW37 LED moving head beam/wash effects and Protron 3K LED strobes wrap the video screen. Lighting vendor for the production is Christie Lites, the leading rental house that Lyons has had a relationship with for years. "We solidified our relationship back on that original Rock of Ages show at New World years ago," he said. "They went above and beyond to make things work back then and they still do."
Lyons concluded by harkening back to those maintenance nightmares he had with some of the early Rock of Ages rigs. "Those early rigs were definitely a challenge. I actually didn't think much about the change we had made for a long time until John Dunn asked me how the Monets were doing on this show. What's funny is that I hadn't heard anything. All of those maintenance reports that would normally come my way didn't exist! The lights have held up just great."