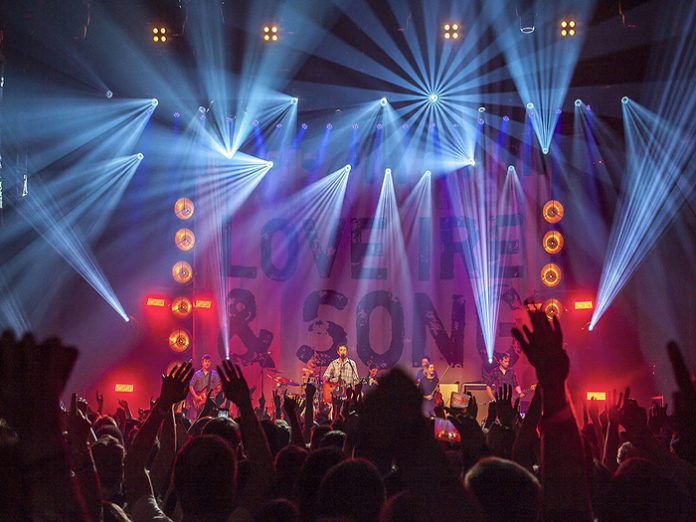 Folk punk singer-songwriter Frank Turner recently played 4 vibrant and fully sold-out nights at London's Roundhouse venue, performing 4 completely unique sets and presenting lighting designer Tom Mason-Smith with the task of creating 4 alternative lighting designs.
Mason-Smith company Dragonfly Lighting provided a Robe specials package including 12 MegaPointes, 24 Robe BMFLs, 24 Robe PATT 2013s and 12 Robe CycFX 8s to cover the 4 shows and assist him to make each one a personal and memorable experience for Turner's eclectic and loyal fanbase. Tom also used elements of the house rig including 18 Robe LEDBeam 100s.
The second night was the 10th anniversary of Turner's seminal Love, Ire & Song album, for which he and his band played the complete album.
Edging both sides of the backdrop, Mason-Smith positioned Robe PATT 2013s for a touch of retro, referencing the decade back in time, and lit backdrop highly effectively with 8 CycFX 8s which were extremely handy as they could be moved and zoomed extremely quickly to throw different effects onto the backdrop.
The 3rd night, Turner performed solo. Stripped back and raw in appearance, visual features included a smaller backdrop with a circular logo and a black behind it, surrounded by a square grid of PATT 2013s leaving a space in the centre.
Robe CycFX 8s were again concealed behind the backdrop so the colours and textures of the cloth could be varied using the 24 Robe BMFLs positioned on the upstage and mid trusses.
The 4th night was a collection of high energy tracks for which Tom needed a bit of flash-and-trash in the lights! Another backdrop was installed, this one with a bigger circle than for the solo set with additional CycFX 8s positioned to highlight its 40 ft. width. The backdrop was also dropped in lower so the upstage BMFLs could blast through for intense back-lighting effects.
6 Robe MegaPointes were rigged along each edge of the backdrop with a border of LEDs and blinders along the other 2 edges. Robe PATTs were prominent in all the designs at the insistence of production manager Dougie Murphy. With 14, rigged in the 2 strips were in action on night 2 and 24 on night three were arranged in the square grid formation.
Robe BMFL Spots stayed on their respective trusses throughout the 4 nights, while the 12 Robe MegaPointes changed positions but were in use for all shows.
"Having all these Robes to hand meant it was a very easy rig to use – I could use the BMFL Spots and MegaPointes for hard edge spots or warmer, softer more wash style sources … it was an extremely flexible rig, and these were the perfect tools".
Dragonfly Lighting is an energetic and rapidly expanding young company based in Banbury, Oxfordshire, UK, which currently has a growing stock of exclusively Robe moving lights. Formed by Mason-Smith 5 years ago and run together with his wife, Stella, Dragonfly's core vision is to supply lighting equipment and services geared towards the needs and demands of working lighting designers like himself.