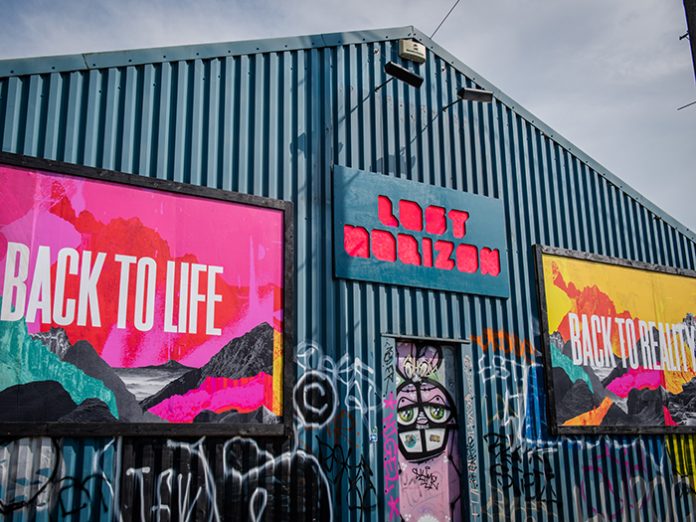 In true Shangri-La style, Lost Horizon, which launched as a creative playground during another summer without the legendary festival, will continue to push boundaries showcasing art, live music and performance.
Headline acts and party organisers showing at the intimate 350 capacity creative venue in the coming months, will include Fatboy Slim, with shows on sale and soon to be announced from Afriquoi, Bad Fractals, Balimaya Project, Big Joanie, Club Djembe, Dub Pistols, Decoy/Kurupt Fm, Emerald, Father Funk's Funk Aerobics, Flamingods, Freestylers, Future Boogie, Gorilla Tactics, Krust, Los Dedos, The Breath, The Mouse Outfit, The Scorpios, Wargasm & Yung Singh.
Lost Horizon and Team Love join forces to present Fatboy Slim, a long-time member of the Shangri-La family, is playing Lost Horizon on Friday 22 October, in advance of his eight date UK wide We've Come a Long Long Way Together Tour, which kicks off at Cardiff's Motorpoint Arena on 4 November and also sees him play the The SSE Arena, Wembley.
On sale throughout October is international psychedelia and alt-rock alt-rock from, Flamingods on 7 October, atmospheric Folk from Honeyfeet on the 8, and on 9th October, Father Funk's Funk Aerobics, invites all comers to don their best '80s fitness gear for a night of high energy funky bass music.
Very Nice brings a massive massive line-up of the very best in live Dub Reggae, Drum & Bass and Dancehall featuring live sets from Dub Pistols and The Freestylers on 15th October, and Club Djembe returns to its hometown Bristol on 16 October with Afrobeats, UK Funky, Amapiano, Gqom & more, with Ikonica and Roska.
On 21 October Lost Horizon welcomes back Earache Records for the second installment of their residency with rising stars Wargasm, and on Saturday 23 October The Bristol Soul Train will take you on an uplifting journey filled with Funk, Soul, Disco and Motown classics. 28 October sees Lost Horizon HQ host a night of heavy, game-changing blues as John Fairhurst and globally renowned Rum Buffalo take to the stage.
On 30 October, Shangri-La x Lost Horizon present a Halloween Rock 'n' Roll Spectacular, a night of bone shaking, tequila swigging, riotous Rock 'n' Roll featuring three kick-ass live bands, with Rev Schnider and The Band Of Angels, Bad Fractals and Los Dedos hitting the Lost Horizon HQ stage with haunting live visuals from Stuart Warren-Hill of Holotronica (Founding member of Hexstatic/Big Chill).
Lost Horizon and Shangri-La Director, Robin Collings commented: "At Shangri-La we have hosted so many greats over the years but for me, Fatboy Slim coming to Lost Horizon, a 350-capacity venue, is going to be really special; a chance to see a true legend up close and personal. This is what the venue was made for, Bristol better be ready!"
Lost Horizon and Shangri-La Creative Director Kaye Dunnings commented: "I'm thrilled to be hosting so many talented individuals and collectives at LHHQ during The ShangrilART takeover this winter season! This is just the beginning of the work we'll be creating, curating and supporting through our venue over the coming months and years. Art is an essential ingredient in empowering the hearts of people – and is needed now more than ever. Get involved! Support your local grassroots venues and arts spaces!"
Lost Horizon and Shangri-La Director, Chris 'Tofu' Macmeikan MBE said: "Independent live music venues are the lifeblood of new music and socialising. As inner city development gets more crazy and becomes the realm of millionaires it's quite rare for people to make their own arts venue. Lost Horizon and team Shangri-La, have always brought the hottest and most diverse underground music to new audiences. The Lost Horizon venue is an excellent place to find killer new sounds and alternative culture. We're super proud to bring you a whole army of new and unseen brilliance."