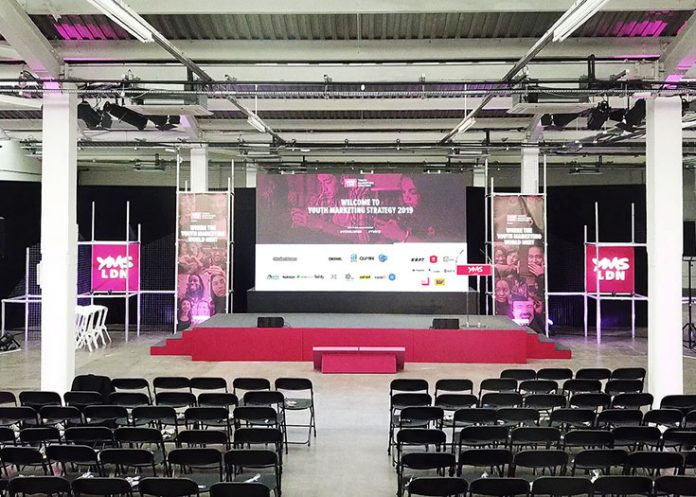 YMS LDN is Europe's largest youth marketing festival, part of a series of global events demystifying the changing trends, habits and attitudes of the consumers of the future.
Held over two days at the Old Truman Brewery, YMS19 LDN was the largest Youth Marketing Strategy event to date, welcoming almost 2,000 delegates and over 150 speakers.
Working closely with Voxburner to deliver a vibrant, engaging visitor experience, Light Fantastic Production Services provided a comprehensive equipment and support package covering all technical elements, including lighting, audio, video, set and staging.
Commenting on the show, LFPS Project Manager Andrew Maxted said "Handling all aspects of the technical requirement at YMS allowed us a good amount of creative freedom. Working with Voxburner we devised a bright, semi-industrial look for the show which complemented perfectly the venue's sparse interior, allowing the strong colours of the event branding to come to the fore".
The event required the design and build of three stages, each featuring full audio, video, lighting and scenic designs and all following the 'industrial' theme applied throughout the venue.
The main auditorium, with capacity for 1,000 delegates, featured exposed scaffolding around a central LED wall contrasted with the creative application of LED lighting in bold colours and eye-catching large format graphics.
A further two auditoria, with capacity for 250 delegates each, were also created within the venue. These ancillary stages showcased LFPS's new Panasonic 98-inch LED screens along with projection and full lighting, video and audio packages.
Completing the installation, LFPS handled the provision of the event's power requirements along with all background audio delivered throughout the venue's registration, catering and exhibition areas.
Andrew adds "We created an exciting, vibrant environment for YMS19. The Old Truman Brewery is a terrific space to work in – the technical package provided by the LFPS team has helped create a fantastic all-around visitor experience. Our clients were delighted with the results".