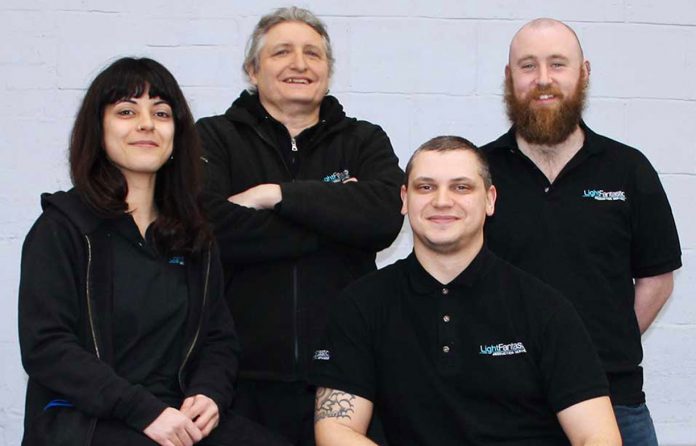 Event production specialist Light Fantastic Production Services have introduced four new members to the team at its Borehamwood offices.
Working across a number of different areas, the additions of Gareth Shippen, Angela Ditomaso, Leo Neilson and Svetoslav 'Slavi' Nikolov strengthens the range of creative production and technical support services provided by the company.
Taking the role of Scenic Project Manager, Gareth is a scenic arts graduate with extensive experience in all aspects of the creative set building and prop making process.
From concept to fabrication, Gareth brings technical knowledge gained working on a variety of live event, theatre and television productions.
Angela joins the Production Engineering Department as Video Engineer, providing technical support to the diverse range of projects serviced by LFPS. A keen follower of new technology, Angela is highly experienced in both creative video design and systems engineering.
Slavi and Leo join the Operations Team, as Warehouse Technicians responsible for the preparation, maintenance and deployment of equipment.
Having previously worked for a major entertainment rental house, Slavi has a deep understanding of the importance of delivering the kit to the highest standards. Leo's background of over 20 years in the live events industry brings the team a perspective on the exacting requirements of a busy rental environment.
Commenting on the appointments, LFPS Rob Myer said, "People are the most important ingredient in everything we do. We are absolutely delighted to welcome these talented individuals to our team. Each of them brings a level of technical ability and aptitude that complements perfectly the range of production services that we offer".