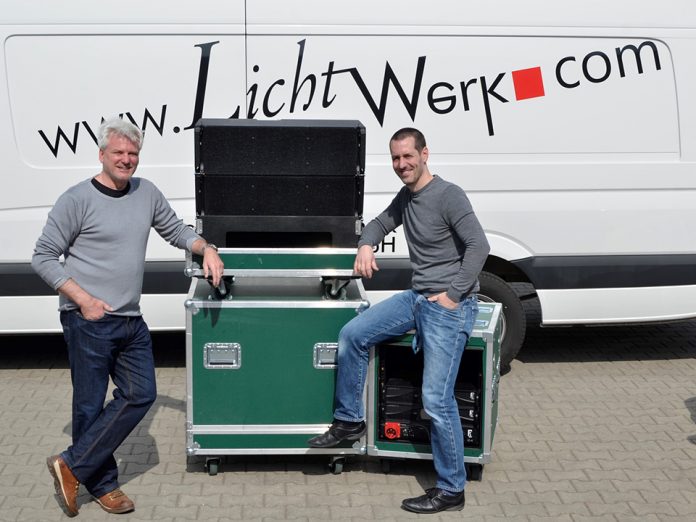 As the first company in the German market, Lichtwerk Veranstaltungstechnik GmbH from Berlin invested in the new LR18 pro-ribbon line array system from the Dutch premium manufacturer Alcons Audio in early January 2017.
The full-service company founded in 1986 with a focus on trade fairs and industrial events has long trusted Alcons products and considered the investment in the larger line array system LR18 as the logical next step. A total of 18 LR18 pro-ribbon systems are now available at Lichtwerk.
"I already knew the LR18-concept from the Prolight + Sound 2016 and was immediately convinced," said Götz Berge, one of the two managing directors of Lichtwerk. "With the new line array system, we have a fantastic tool for our work and are looking forward to providing the best sound for our customers." The LR18 system from Lichtwerk recently experienced its "maiden trip" at the Special Olympics In Willingen at an open-air event in the snow in front of 3,500 guests.
The LR18 features Alcons' multiple-patented pro-ribbon driver technology for mid-range and high-frequency frequencies, delivering an ultra-fast response with up to 90% less distortion. The LR18 offers a completely intuitive linear reproduction with excellent speech intelligibility and uncompressed, identical sound balance at every sound pressure level. It is the latest proof of Alcons' typical quality, which convinced Lichtwerk already 14 years ago.
Lichtwerk, from the LR16 prototype to the LR18
The current investment in the LR18 system is therefore also an expression of the long and exciting history of the companies Lichtwerk Veranstaltungstechnik and Alcons Audio.
This began in 2003, when Lichtwerk had just won the tender for the Berlin Museumsinsel Festival. "The festival covered everything from rock'n'roll to opera and we needed a PA," remembered Berge. "We were talking to Carsten Albrecht, who had just switched to Alcons and ordered a line array system, which was not yet available! We had the deepest confidence that it would be good. In the end, the system, later christened LR16, came on and was set-up within an hour. We switched it on and were completely blown off our socks. The sound was absolutely brilliant and extremely direct. Really unique! Since then, we are Alcons converts! Now, after 14 years, the time is right for the new, larger system for Lichtwerk. "
Simon Schmitt, second managing director of Lichtwerk, added: "The Alcons technology is simply convincing. Alcons offers the only true line array systems because they are real line source systems and no point source systems – and everyone can hear that! Alcons line arrays – be it LR16 or LR18 – are superior in sound to most systems. With Alcons, you can also experience unexpected successes in environments, which are generally considered not to be suitable for amplification. That is why Alcons is the right choice for us because our customers often provide us with difficult tasks. "
Lichtwerk has won numerous tenders because it was possible to achieve a speech-intelligibility that was previously not considered possible. "It clearly speaks for the system, if one can create a good sound even in difficult rooms," concluded Schmitt. "For Alcons products, brilliance and speech intelligibility are guaranteed – even without EQ-ing. In simple rooms, you can work with a less good system, but Alcons plays out his superiority precisely in situations where nothing seems to work. We are looking forward to many new challenges and look forward to this thanks to Alcons. "
"After Lichtwerk Berlin was the first customer on the German market with the LR16, we are particularly pleased that Götz and Simon are also the first with the 'bigger brother' LR18," said Carsten Albrecht of Alcons Audio Germany. "This brings it full- circle. We are very grateful to be able to share our audio pioneering with Lichtwerk yesterday, today and in the future."