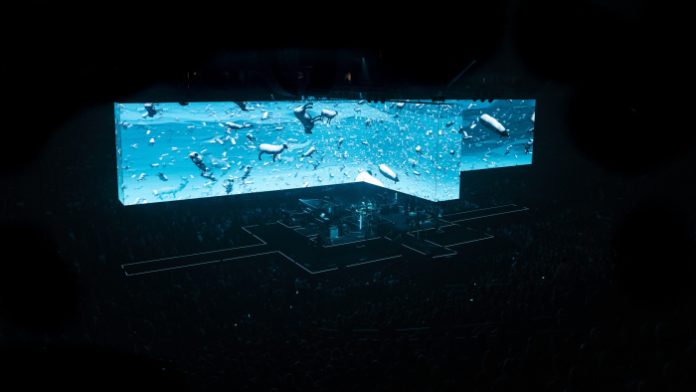 Regarded as his 'first farewell tour', Roger Waters has embarked on a marathon four-month tour of North America, Canada and Mexico, showcasing music from across his incredible career, with an ambitious 360° immersive production boasting Leyard CarbonLight Series LED screens. 
Building on Waters' legacy of technically renowned visual productions, This is Not a Drill Tour develops visual storytelling even further to create a truly immersive experience, staging the production for the first time in-the-round, with an awe-inspiring, lightweight 650sq m, cross-shaped Leyard screen, suspended from the roof as the centrepiece, provided by video equipment suppliers, Universal Pixels (UP).
"With the screen, audio and lighting all hung from the roof, this 'heavy' rig required a lot of advance planning. UP provided a screen for the last tour in 2018, so it was a pleasure to work with the team again to find a solution for this unique in-the-round show. The huge 650 square metre Leyard LED screen was chosen because it is lightweight enough to reduce the overall rigging load, whilst still staying true to the overall design concept. The result is a truly immersive 360 canvas for Roger Waters' creative narrative," explains Jeremy Lloyd, co-director at London-based Wonder Works, a long-term partner, which was appointed to deliver production and technical design services for the tour.
The first task for the Wonder Works design team was to carry out a detailed weight study, as not only would the proposed LED screen be large but, as an in-the-round show, there is three times as much audio, lighting and video, compared to an end-on show. The team was faced with the challenge of designing a lightweight system, which would be logistically possible to install in every venue throughout the four-month tour.
UP's Phil Mercer has been personally involved in Roger's tours since 2006, and via UP since 2018. With the new production design the most challenging yet, it called for a top spec, routable LED product that is only 15kg/m2. UP chose Leyard's CarbonLight CLM6 LED panels, its lightweight carbon fibre mesh construction bringing the screen in within the weight restrictions, whilst delivering everything that was expected in terms of image quality.
"Not only is Leyard a natural fit for us, as globally we have the biggest rental stock of their CarbonLight LED range, but our research proved that Leyard was the only manufacturer with a suitable product," Mercer explained. "It's not just a big screen, it's a really thought through design. Not only did it need to be lightweight, it needed to be quick to rig due to the demanding tour schedule, where load in and out need to be completed daily, which is where the CLM6's easy to use tile lock hardware comes in."
The resulting production design features a rectangular central stage with runways extending from each side, creating a cross. Above the stage, the Leyard LED screen mirrors the stage, also taking the form of a cross. TAIT was commissioned to build a structure for the screen to hang from, whereby it is separated into three sections, which can all move as one. This allows the screen to be raised during the show according to the artistic direction, yet transported and rigged in parts. The screen design is made up of 648m2 of Leyard CLM6 tiles in a 12-sided crisscross, enabling the audience to view video content wherever they are in the venue. The production design additionally features 16 lasers that form giant triangles surrounding the entire length of the LED screen above the stage, complemented with unrivalled surround sound audio.
The design team also needed to ensure the screen could deliver the technical requirements of the tour's visual content, providing 10-bit colour depth, grey scale and low light features to maintain Waters' trademark visual palette and concepts. Video director, Icarus Wilson-Wright, was assigned to facilitate the artistic vision of Waters and his creative director, Sean Evans.
"Roger and Sean had already devised the design concept, style and workflow but they needed me to technically integrate that into the show production. I worked with Sean to build a 3D previs project in Disguise and mapped the content in a disguise server," Wilson-Wright explained. 
"I've worked with Leyard many times over the years, and the results are always impressive, so I knew it would enable the team to realise the artistic concepts of the project without sacrificing quality. The screen effortlessly manages the high quality, large content we're pushing at it. The NotchLC video codec made 10-bit playback for our media servers a reality, as it's an ideal scenario for showing content like this with big canvases," he added. "The screen's 10-bit capacity also enables us to work with darker content, which in turn allows us to use lower lighting levels to dramatic effect. The opportunity to run a majority of 10-bit content gives us a great dynamic range and look. We are very happy with it."
Commencing in Pittsburgh, USA, at the beginning of July 2022, the 40+ date tour has visited cities across North America,Canada and Mexico with the 2023 European tour starting in Lisbon, Portugal next March.
"After a two-year pandemic delay, it is great to finally see this ground-breaking show on tour. We spent months working on the technical design and load studies, planning how to tour this sizeable show across so many venues and it's a relief to see it working and wowing fans across America," said Lloyd.
"It's an honour to have our CarbonLight LED screens play a major role in such a technically challenging production," concluded Leyard Europe Business Development Director Rental and Staging, Luke Marler-Hausen. "Universal Pixels is a long-standing and valued customer, and we are delighted they have put their faith in us once again for such a high-profile tour."
www.leyardeurope.eu