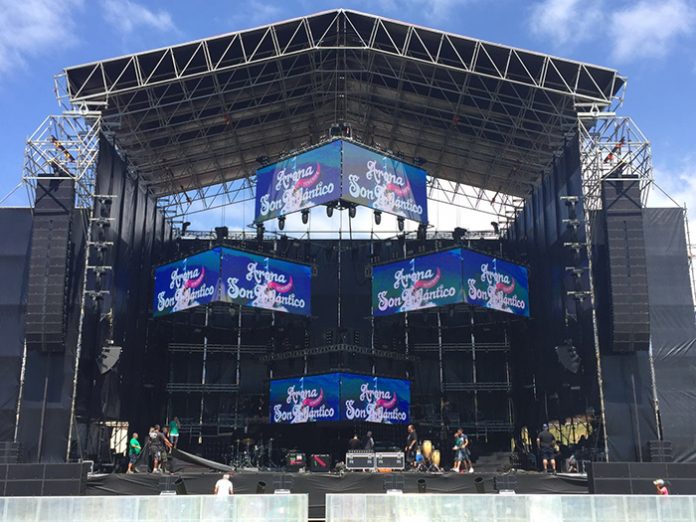 For more than 25 years, its customers, with quality and expertise, have held Sonopluss Canarias in high regard its two fundamental principles of business. In the summer of 2016, Sonopluss Canarias took delivery of an L-Acoustics K2 system, the first in the Canary Islands, taking the company's audio inventory to a new level.
The investment was one that the company had been keen to make for some time. "We had been talking for a number of years and they knew they wanted to make the change to L-Acoustics from their existing system," explained Marc Neuhaus, owner of Take Off, L-Acoustics' Spain-based distributor. "It was simply a question of timing."
Sonopluss's new system comprises 28 K2, 28 SB28 subs – purchased to service the expanding Electronic Dance Music scene in the Islands – along with 12 Kara and eight ARCS II.
"The first and main attraction of the L-Acoustics system for me is how it sounds," said Simone Higuera, Director of Sonopluss. "Marc did an A/B demo against our existing system and there was just no comparison. The L-Acoustics system was so much better that the decision was made there and then."
The decision went beyond audio quality. The Canaries' enviable position as an island paradise comes with a downside. "We're in the middle of the Atlantic, three hours away from anywhere by plane," explained Higuera. "It can take 10 days for shipments to arrive, and we also have a different customs and tax system from the mainland, which means we need to be self-sufficient. It's not practical for us to rent anything in from anywhere else. The numerous touring artists not carrying their own PA require a rider-friendly system and L-Acoustics is exactly that. Any artist is happy to see K2 on a rider, so this addition to our inventory is a real asset."
"From a logistics point of view, K2 was the right box for Sonopluss, simply by virtue of its weight and dispersion pattern," added Neuhaus. "With a roster of high-profile events both indoor and outdoor, it's as if it was designed specifically for this market."
Sonopluss works in close collaboration with its two sister companies, based on Las Palmas and Tenerife, both of which have invested in L-Acoustics Kara systems. The three companies work as a network, so Sonopluss's K2 will also allow them to take advantage of a large-scale L-Acoustics system across the islands.
"Since our K2 was delivered, we've used it for concerts by Ricky Martin, Manolo García and Arona Summers, as well as on Fiestas Farra World, 40 Principales and Carnaval Santa Cruz de Tenerife 2017," said Higuera. "It has been perfect every time and we couldn't be more happy."