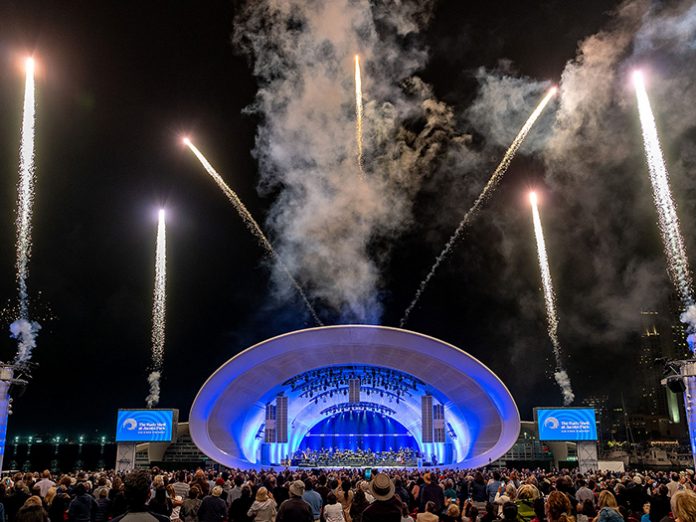 The $85m Rady Shell at Jacobs Park, the brand new outdoor home of the San Diego Symphony, is an architectural wonder on the edge of San Diego Bay and in the heart of the city's downtown. As well as looking incredible, The Shell also sounds fantastic. This is thanks to an immersive L-Acoustics PA system designed in Soundvision by Françcois "Frankie" Desjardins of Solotech. Working in tandem with sound consultant Shawn Murphy, Solotech integrated the venue's full AVL system.
"It does look as good as it sounds," said Solotech Business Development Manager and Senior Engineer, Aaron Beck. "The white exterior wrapping material is a kind of plastic cloth and the interior is covered with a white scrim material. L-Acoustics was able to provide an entire K2 system in white, as well, to match it. It's only the second one like it; the other is the Hollywood Bowl. The way it all works together visually is quite wonderful."
The system comprises two main arrays of 16 L-Acoustics K2 per side, flanked by two hangs of eight cardioid-configured KS28 subs per side and a center array of nine K2. Another 16 KS28, also in cardioid configuration, are located underneath the stage.
In addition, six towers comprise the surround elements of the 7.1-type system design: two side-surround towers per side – for a total of four – hold four A15 Focus speakers each, with the rearmost tower on each side also holding six Kara II with mechanically adjustable HF-steering fins. Two rear-surround towers are fitted with four Kiva II and two SB15m subs each. The system is powered by two dozen LA12X amplified controllers, with system processing by L-Acoustics' LA Network Manager.
While it's designed to project the orchestra across the wide span of the open-air venue, this powerful PA system will also offer Rady Shell and the San Diego Symphony a highly flexible venue that will easily accommodate a wide range of visiting artists. It will also give the orchestra the impact it desires when performing live scores from movies shown at the park. Beck says the immersive design of the system reflects the growing demand by touring artists for that type of sound — and the L-Acoustics system at Rady Shell does just that — very cost-effectively.
"One way we're achieving that sense of immersion is by taking some of the reverb returns from the front-of-house console and sending them to the surround speakers, which really enhances the immersive effect," he explained.
Beck also notes that the large number of subwoofers has less to do with impact than with directionality, always a difficult goal to achieve with low frequencies. "It's not so much about output as it is about control of the low frequencies," he said. "There are very strict noise-control measures in place here and on nearby Coronado Island, and the KS28 subs in the cardioid configuration give us tremendous ability to steer that energy where we want it to be and away from where we don't want it."
The same, he says, go for the K2 Panflex horizontal steering technology, which combines mechanically adjustable fins with DSP algorithms effective from 300 Hz. "It's all about putting the sound on the seats and keeping it from escaping the venue," Beck adds. "K2 gives us not only excellent sound quality but also the tools we need to stay in compliance with local noise ordinances. Soundvision was incredibly helpful for that."
San Diego Symphony Audio Director Joel Watts says that this sound system is highly unique and particularly effective for amplifying a symphony orchestra in an outdoor environment.
"In a space like this, where the seating goes back a full 200 feet, the only way to fill it with acoustical music, is with amplification. But it has to be done in such a way that everyone hears only the music, never the speakers," he explained. "And that's especially true of a surround system like this. If you truly hear the surround speakers, then they're too loud. These are the only speakers that can achieve this. You hear only the music, not the system. And it sounds marvelous."
Watts also points out that the asymmetric configuration and precise placements of the speakers allow the orchestra to achieve full impact without exceeding the noise restrictions. "We have full dispersion to one side of the system and virtually none to the other side, thanks to the fins on the K2," he said. "It focuses the sound and keeps it on the seats. It never crosses the lease line."
In addition to allowing the venue to achieve the rare goal of properly amplifying a symphony orchestra, the L-Acoustics system also makes the venue fully rider-ready. "We need to keep labor and time costs to a minimum, so we hope no one needs to bring in a PA; everyone should be happy using ours," he said. "And ours is often the same one they'll carry anyway. That's why we chose L-Acoustics."
Finally, says Beck, K2 and the other speakers that make up the system are all remarkably robust, able to withstand the kind of weather they will face since they're right next to the ocean. "Having the venue be so close to saltwater can be pretty harsh on sound components, and the temperature swings here can also be dramatic at times," he said. "The L-Acoustics speakers handle that very, very well. Combine that with how rider-friendly they are, and you easily see how they were the perfect choice for this project."