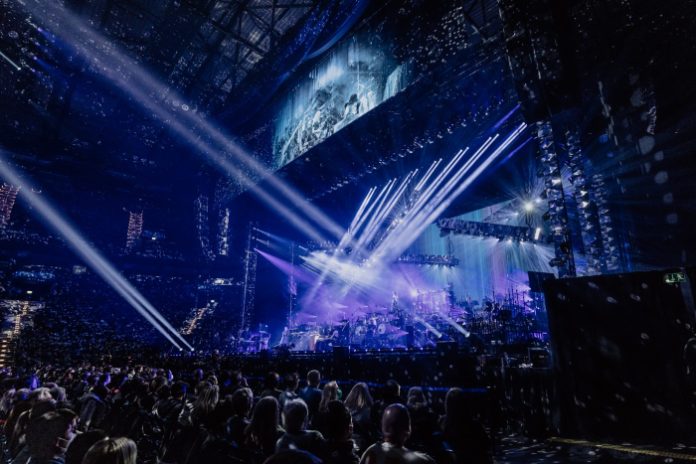 Legendary film music composer, Hans Zimmer, drew over a million fans to arenas, stadiums and open-air concerts for his spectacular Hans Zimmer Live European Tour, his first large-scale arena tour since the COVID-19 pandemic. The award winning composer performed live on stage, joined by an orchestra, band and choir, to perform hits from favourite films as well as new material in two hours of reimagined arrangements. For the first time on a Zimmer tour, a KLANG immersive in-ear monitor system was deployed, delivering previously unattainable space in the monitor mix and also finding favour at front of house. 
Sound Designer and FOH Engineer, Colin Pink, was faced with the challenge of creating more space in a mix consisting of over 200 channels of audio. The band itself comprised 20 multi-instrumentalists, along with the orchestral string and brass section, all supplemented with pre-recorded tracks. Additionally, two full drum kits and two percussionists accounted for over 50 channels alone.
"With this density of material, it seemed that for the band's in-ear monitoring KLANGwould be the only viable option," said Pink. "It's the only system that allows you to easily spread the sources around the sound field, giving the space in the mix that the performers need. We also incorporated a binaural head as an audience mic to help retain a natural perspective for the band. Monitor Engineer, Maurizio Gennari, found that he was able to give the band all the information they needed, with enough space to make it feel open and relaxed." 
Maurizio requested the KLANG:konductor to cope with his large amount of channels and mixes, also opting for two MADI cards to interface the system with his Quantum 7. "The KLANG system was easy to set up and I've found it very intuitive," he noted. "I was using a DiGiCo Quantum 7 console, as was Colin, which is the perfect match. Its integration and all the onboard KLANG-ready features made it very easy. I will definitely use it again."
With KLANG working so well at monitors, Colin wondered if there would be any benefits to using it as an effect at FOH. The answer was a definitive 'Yes!', so a DMI-KLANGwas installed in his Quantum 7. Taking direct outs from his playback channels into the KLANG System, he returned the binaural mix to his playback group. This allowed him to spread the different playback stems around in different ways. He found that strings and choir worked very well when spread very wide, whilst keeping the percussion narrower, which helped give him the space he needed within the mix. 
"You have to be quite subtle with it," he noted. "But when used with less percussive sources, KLANG works very well at widening the image and creating a full and spacious mix. It is a very useful tool when you have a very densely arranged score."
Hans Zimmer will return to European stages in April 2023 and will take in 15 countries, including new stops in Portugal, Spain, Slovakia and Germany. "I will certainly be using KLANG again on the next tour," Colin concluded. "I imagine it will become an integral part of my workflow in the future."