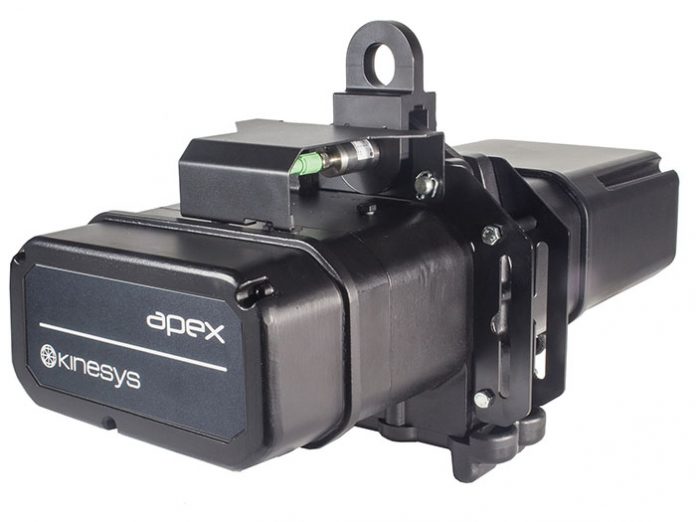 Kinesys staged its first demonstration in Canada to make people aware that their products have officially landed in the country and are available for immediate rental. The Demo day was a collaboration between David Bond, who runs Kinesys' US operation and Mark 'Drifter' Desloges from Drifter Rigging, a local rental operation with a selection of Kinesys kit.
The objectives of the event included introducing people to Kinesys as a brand and highlighting the range of intelligent rigging and automation solutions available with particular attention to the newest groundbreaking Kinesys technology, the Apex system. The Apex system is a leading-edge product line that incorporates the best of Kinesys' extensive experience producing variable speed chain hoists to create a range of safe, reliable and rock solid hoists and controllers.The gear is designed to maximise creativity for shows, stage and environment designers and operators in all fields of entertainment. There was a live demo of the Apex system in action, where attendees were able to get close up and technical with it while Bond and Desloges answered all queries.
Drifter Rigging's own new Elevation 1+ / Libra load cell system was out working on the Calgary Stampede grandstand show, but literature and information on the complete Kinesys line was available at the demo. The Demo day aimed to attract lighting designers, production managers, production companies and anyone else potentially interested in the brand and its capabilities.
Drifter Rigging approached Kinesys looking for an automated rigging product line on which to base a new business venture. Desloges driving concept was to offer the Canadian market access to the most widely used automation products for mid to higher range productions which are compatible to other international vendors' systems and offer subhire options. His requirements also demanded that load cells, trolleys, fixed speed intelligent hoists and other elements could be added seamlessly to the same control platform in the future. The first purchase was of Elevation 1+ variable speed chain hoists combined with Kinesys' Libra load cells for additional safety monitoring. The same Elevation system can also run trolleys, rotators and more.
"We're proud to have Drifter Rigging as our first and only Canadian customer, offering Kinesys products for rental and show services. High production values are in demand in Canada, safety concerns are paramount and creative drive is consistent and constant. This interest in programmable chain hoist control, integrated load cells and other movement elements is a very positive sign. This is the start of a new chapter in automation for Canadian productions." concluded Bond.