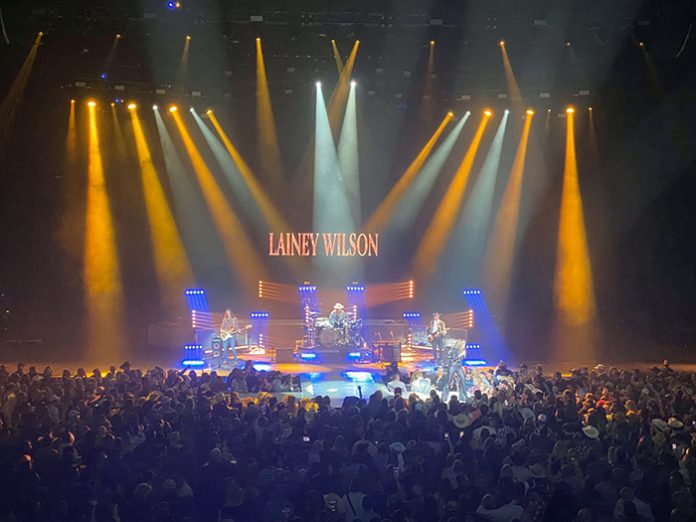 Hot on the heels of Lainey Wilson's first number one hit, Things A Man Ought to Know, the American country music singer–songwriter embarked on her first arena show experience as she opened for Jason Aldean's Back In The Saddle Tour. Ensuring she was supported by full production looks when the tour stopped at the Park MGM in Las Vegas was Aldean's Lighting Designer, Keith Hoagland.
Designing and programming Wilson's show, Hoagland reflected her vibrant, freewheeling stage persona with a vividly coloured show marked by fast pan and tilt movements, dynamic aerial effects and dramatic side lighting.  Helping him deliver these looks was a collection of 18 CHAUVET Professional Rogue R1 FX-B fixtures supplied by Bandit Lites.
Hoagland, who also used CHAUVET Professional Maverick fixtures on the Aldean tour, relied on the Rogue R1-FXB to give Wilson's show a distinct personality, often directing their independently controlled five moving heads in different directions to change the visual aura on stage.
"We wanted something that would stand out," said Hoagland. "The FX-B with its five moving heads and rotation qualities gives you a lot of opportunities as a designer to create some unique looks, that aren't just 'different,' but also very attractive."
In addition to providing the requisite eye candy, the Rogue R1 FX-Bs framed the stage and added an extra level of warmth to it, being arranged around Wilson and her band mates.  Positioned at different heights on pipe and base, the linear fixtures also endowed the stage with a greater sense of depth, something that balanced the high trim at the venue.
"It was nice being a part of a milestone in Lainey's blossoming career," said Hoagland. "One of the best things for us was when her manager came up and said 'we finally get to see what Lainey looks like performing with a real produced show!'"