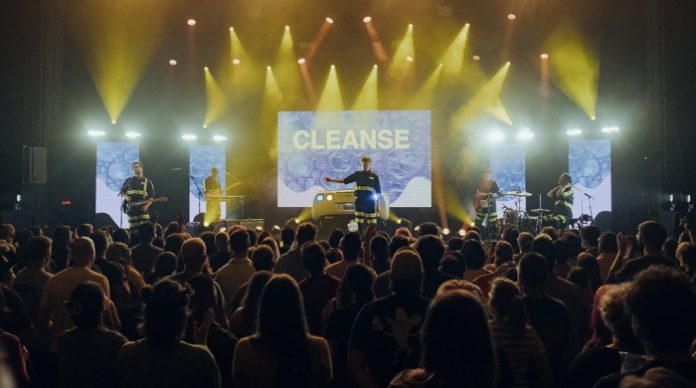 Indie rock bands, Joywave and I Don't Know How but They Found Me (iDKHOW for short) recently completed a 23-date co-headlining tour of the USA backed by an LED video wall system comprised of ADJ Vision Series panels. The playback system featured a large central rectangular screen, flanked on both sides by two smaller vertical columns of panels. This allowed the performance space to be encompassed by video graphics, which were utilised extensively by both bands to create a wide variety of visual effects that enhanced the aesthetic of their performances.
The Welcome To Hellvetica tour ran for exactly a month this past fall, kicking off 25 August at The Riviera Theatre in Chicago, IL and wrapping up 25 September at The National in Richmond, VA. Across 23 dates the bands played a variety of venues in the 1,000 to 2,000 capacity range, spread across 18 different states plus a show over the border in Canada. Both Joywave and iDKHOW played hourlong sets each night, while tour support was from Nashville-based singer/songwriter Savannah Conley.
Lighting Designer, Richard Fong first worked with Joywave on their Spring 'Cleanse' tour, which he was recommended for by a friend, Ann Slote, who had been commissioned to create the tour visuals. He designed the show and toured as operator, building a good working relationship with the band and their other crew. He was then invited to expand his LD duties to also cover iDKHOW for the co-headlining tour. The LED video panels for both tours were supplied by Squeek Lights, a lighting rental company based in New Jersey, which expanded into video at the beginning of the year through an investment in 282 ADJ VS3 LED panels.
"Joywave and their team were so great to work with that I jumped at the chance to tour with them again and I was also happy to become iDKHOW's LD for the tour," commented Fong. "I think it helped the co-headline become a little bit more cohesive, rather than having two different designers designing the two different bands. It made sharing the equipment more straightforward, as we didn't have to work around putting up two different designs – putting things in different positions for each set. Video was an important part of the design and we had already used ADJ VS3 LED panels on the Spring Joywave tour. That was just a simple 5 x 5 layout, because it was a slightly smaller club tour and we couldn't bring anything too large. But we absolutely loved using the system so much that we specifically sought out Squeek Lights again so that we could grab the same product, but this time use more of it and make a larger layout."
Featuring the highest quality LED binning as well as bright, clear output, the ADJ VS3 Vision Series panels have a 3.91mm pixel pitch and feature three-in-one RGB SMD2121 LEDs with a brightness of 1000 NITS and a high refresh rate of 3840Hz. They offer a viewing angle of 160° (horizontal) / 140° (vertical) and a contrast ratio of 5000:1, allowing for the delivery of video reproduction. The system also features a magnetic locating system, which pulls together the top of one panel to the bottom of another, allowing a technician to hold the new panel temporarily in place with just one hand while using their other hand to engage the pin-locking mechanism. This means that a single crew member can quickly and easily erect a full wall of panels.
"I love how easily the Vision Series panels go together," enthused Fong. "In fact, I don't think I would have ground stacked such a big screen using any another video panel, if we hadn't been able to get the Vision Series, because the system that ADJ has developed is just so incredibly easy to put together. And that sentiment was echoed by a lot of the local stagehands in the venues we visited; they often commented on how easy the panels went together compared to other systems they had worked with on other tours. It made for very smooth load-ins and the simplicity of the system meant that I didn't have to spend 10 minutes each time a new hand came into the call explaining how to attach the panels together."
The Welcome To Hellvetica tour's video setup was all ground-stacked, utilising Vision Series' rigging hardware. The central main screen comprised an eight by five configuration of VS3 panels, mounted on eight of the multipurpose VSRB1 rigging bars / ground stack supports. Behind the video wall was a ground support system constructed from the modular VSGSB bases, VSGSLT ladder truss supports and VSGSCSB interconnecting support clamps. The screen was then attached to the support structure using the innovative VSRQR quick clamp, which connects to a dedicated slot on the rear of the Vision Series panels on one side and the ground support system using a standard O-clamp on the other.
The main screen was a static element of the show and Fong had it built on a house riser in every venue that had one available, to provide maximum visibility and prevent as much of the screen being obscured by backline equipment, as well as Joywave's sawn-off Corvette prop, as possible. The four smaller LED columns were each constructed from a two by four arrangement of VS3 panels, which were attached – using more VSRQR quick clamps – to custom rolling trusses that were also used to support lighting fixtures.
"Originally, I wanted to rearrange the panel layout for each set," explained Fong. "Because the two bands were sharing equipment, I thought it would be a good way to give each performance a different visual identity. The plan was that one band would have the side towers staggered forward, diagonally down the stage on either side, and that we'd then push them back into a horizontal line going from stage left to stage right across the back, a little closer together, for the other. But during technical rehearsals both bands preferred the first look, as I think they felt the video was a little bit more inclusive and immersive having the side towers curving forwards, so we ended up keeping it the same for both sets. However, it was still useful having the side panels built to roll around on stage. It significantly cut down on our changeover time, because some of the stages we were playing were quite tight, so that allowed us to roll the panels out of the way to provide plenty of space to switch the backline equipment smoothly. It also made the design adaptable, which was important as we played a variety of sizes of venue. At the smallest show we didn't use the side screens at all, but on the biggest stages we were able to spread them further apart, so the show still held its own."
All the panels in the standard ADJ Vision Series – which also includes 2.97mm pitch VS2 and 5.95mm pitch VS5 models – are based on the same robust frame, allowing panels of different resolutions to be used together and meaning that the same rigging bar and other accessories can be utilised for all VS models. Each panel is comprised of four individual modules, which are front serviceable, allowing for convenient maintenance and repairs. All the panels also feature in-built articulated protectors, which fold out from the back of the unit to provide protection to the corners – the parts of the panels most prone to damage – during transit.
"I love how high quality the VS3 panels are and how easy they are to put together," stated Fong. "In fact, it was very surprising how well they held up to touring. Being put up and taken down every day. The pixel density on them is also great and they are extremely bright. Working indoors, LED video panels are usually pretty bright, but these are particularly so. Another thing that really helped is the hardware connections ADJ has developed for this system, it really made it easy to make the side tower structures. I'm not sure we would have been able to figure that out if it weren't for the VSRQR quick clamps that we were able to adapt to use with a truss instead of the ground support system."
Both bands utilised the LED panels extensively for their sets, although the way they approached this was very different. Ann adapted Joywave's Cleanse tour visuals for the new screen configuration, and these were triggered by the band's timecode during each performance. However, this was the first tour that iDKHOW had integrated video into their sets. They commissioned Visual Designer Dallas Boyd to create their content but took a more organic and flexible approach to integrating it into their performances. Dallas also served as the tour's L2 and used visual mixing software to busk cueing the video each night, essentially serving as VJ for the band. This allowed them to experiment with different ways of incorporating the visual elements, trying different things out and then keeping what worked for the next night and tweaking what didn't.
Despite taking very different approaches to the way they integrated visuals, both Joywave and iDKHOW were very pleased with the extra dimension they brought to their show as Richard confirms: "The bands both loved the video element of the tour production. The visuals each respective designer came up with were very much matched to the band's energy each night and really enhanced the atmosphere," he concluded. "Both bands would love to have video on every tour going forward, because of the way they see their show now, and the way they can use it to create a much larger feeling production, it has really make an impression on them."