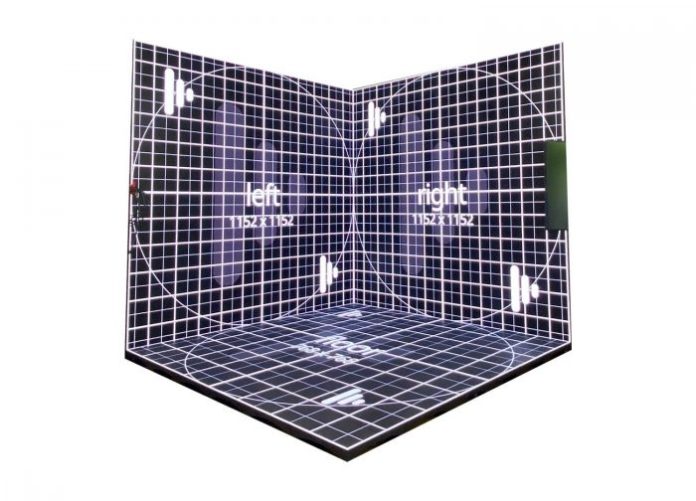 INFiLED will exhibit a range of new products and innovations at ISE from 10 to 13 of May 2022 in Barcelona.
The booth will consist of over ten installations, related to the indoor and outdoor vertical markets covering a broad spectrum of applications such as Control Rooms, XR Studios, Rental, Retail, Corporate, DooH, and more.
INFiLED's must see displays include a 4K WP0.9m4 video wall, ideal for Command-and-Control Rooms, a fully operational 3x3x3m XR studio for a real-time demonstration of advanced filmmaking and broadcast possibilities, various curved LED displays for indoor and outdoor corner installations, transparent touring solution TITAN-X, as well as plenty of other indoor and outdoor solutions for fixed, rental, and creative installations.
Moreover, the company's EMEA Showroom located in the centre of Barcelona will be open every afternoon for customers who wish to visit and catch up over drinks, live music, and selected tapas. Customers will be able to get a ticket to the event at INFiLED 's booth 3B400.
For the first time in Europe, INFiLED will showcase its flagship indoor WP series in a 4K resolution, four-in-one technology, and a pixel pitch of just 0.9mm. WP LED series cabinets can be flat or curved for a variety of installation requirements, offering standard 16:9 aspect ratio, refresh rate of 3840Hz, and outstanding 14bit grayscale. Featuring advanced operations control systems with multi-user management capabilities, dual-processor, and built-in redundant power supplies, it is designed for 24/7 non-stop operation.
Front maintenance can be performed without disassembling the fixed frame and meets strict EMC Class B certification requirements. With an ultra-thin edge of only 29.5mm, and an intuitive elegant mounting system, the WP series saves space for small and demanding environments. INFiLED provides a wide variety of technical features to choose from and limitless customizable options.
Furthermore, INFiLED will be introducing its brand-new high-transparency large-format outdoor touring solution, TITAN-X, a product milestone for the rental and staging market. TITAN-X features a pixel pitch of 8.3mm and high transparency rate of 70% offering outstanding display performance for visual effects. Each cabinet offers extensive load capacity and advanced overall stability due to its unique rear triangular foldable wind bracing system which can resist wind speeds of 20m/sec for outdoor events, while the screen can reach heights of up to 24 metres.
The 1,200mm by 1,200mm cabinets feature a unique design with an innovative lifting operation from the dolly that quickens installation time to a new level. At ISE customers will also be able to see first-hand its dedicated dolly system that allows for easy transportation and makes installation more efficient. The foldable bracing design of each cabinet saves on storage space and even with extra accessories, the cabinets can still be transported in their dollies. Featuring a high brightness of 5000nits and IP65 protection, it's a reliable and robust choice under any light and weather conditions. The TITAN-X can be customised and assembled at angles of ±15 giving it the ability to adapt to unlimited stage and creative design requirements such as a curve effect.
Another solution that INFiLED will be presenting this year, is a 3x3x3m XR studio that consists of two INFiLED DB 2.6mm backdrop walls and a DFII 3.9mm floor, offering to customers the opportunity to experience a real-time demonstration of advanced filmmaking and broadcast possibilities. Using Brompton Processing Tessera S8 processing system, the INFiLED DB series is an ideal choice because of its high scan rate, high frame rate, ultra low latency, exclusive black LEDs, which ensure high contrast, vivid colours, and a cinematic look without moiré effect.
The DFII series is the newest generation of high quality, interactive LED dance floors and is designed to carry a weight of up to 2500kg/m2. The XR stage at ISE is powered by disguise, the market's leading experience production software provider. Combined, the products create a seamless, and immersive environment, to replace traditional green screens and to help reduce shooting time by 50%. Combined, the products create a seamless, and immersive environment, to replace traditional green screens and to help reduce shooting time by 50%.
INFiLED will showcase its new cutting-edge solution for flat and curved outdoor fixed installations. The MV Edge series is a curved panel that consists of specially designed mini-size modules and is compatible with the company's flat MV series, able to transform a flat display into a smooth curved screen. Each module measures only 125x250mm and can support various connection angles from 90° to 180°. Featuring IP65 protection, high brightness of 5.000nits, high refresh rate of 3.840Hz, as well as front and rear serviceability it´s a reliable and robust choice under any light and weather conditions. This product series offers limitless customizable options. An impressive 9×3-m MV EDGE display with a pixel pitch of 5.9mm will be put on view for customers who are seeking DooH applications.
Besides the new outdoor curved LED series, INFiLED will also present the recently launched WP Arc series for indoor fixed installations. Available in various pixel pitches and starting from just 1.5mm, the WP Curved series is compatible with INFiLED's flat WP panels and can transform a flat display into a smooth 90° concave and convex curve. With its 16:9 panel ratio and narrow pixel pitch, it is designed to support native Full HD, 4K or 8K resolutions. A seamless and high-definition solution that ensures perfect visual effect for images and videos. It features an edge thickness of only 29.5mm, vivid colors and high image quality making it an ideal solution for Retail, Corporate, Broadcast, and other Creative applications.
Moreover, INFiLED will showcase more of its rental and creative products including the new XII series, ART series, and transparent AM series.