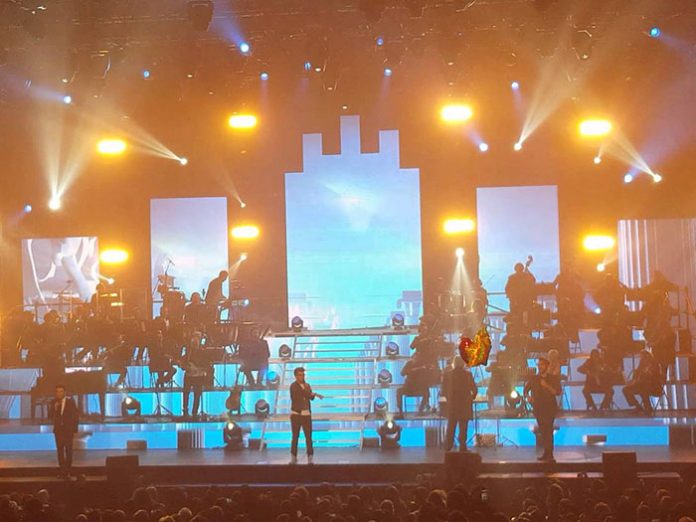 Following the extraordinary success of their summer tour, and after winning the 65th edition of the Sanremo Music Festival and representing Italy in the 2015 Eurovision Song Contest, Il Volo have given a long series of performances in Italy and abroad this year. Show Designer Francesco De Cave, who was called upon by the production team to create a new show image, used Claypaky lights to illuminate the young tenors' world tour dates.
The stage featured four large straight terraces for the orchestra, arranged behind the forestage, linked by a central staircase for the young tenors to move around on. De Cave fitted LED arrays onto the stair risers for the videos and arranged video panels on the backdrop to create a series of "windows onto the world", all surrounded by dichroic lamps.
Along with the new stage, graphic design and new lighting design, the conventional lights and Claypaky moving lights (46 Sharpy Wash 330's, 15 Alpha Profile 1500's, 4 Alpha Spot HPE 700's and 33 Sharpys) were used to create a setting visually reminiscent of theatres and Broadway productions. A moment later, each tenor entered the stage in pre-established places with intense white light beams behind them: three Sharpys, fitted with prisms and frost filters, marked out their silhouettes with a dazzling light.
"We fixed specific places for the artists only for some pieces, to get the right feeling and emotional impact. The tenors were allowed their usual freedom of movement on stage for all the other songs. They each had a follow spot that followed them, but above all there was back and side lighting to illuminate them everywhere."
The Sharpy Wash 330's on the battens provided back and side lighting for the whole set and – in particular – lit the musicians in the orchestra, causing them to cast long shadows, without affecting the video projections along the stair risers.
The Profile 1500s provided beautiful back lighting, which was sometimes shaped over all the members of the orchestra. The Sharpys produced effects and rays to create the scene and make the stage look even bigger. The Spot HPE 700s were placed directly on the stage and were used to project light rays backwards so that the backdrop did not look black on camera.
Piero Barone, Ignazio Boschetto and Gianluca Ginoble, just back from the success and excitement of their long Il Volo World Tour 2016, are now top stars of traditional Italian and international music, which they play with style and modern arrangements.