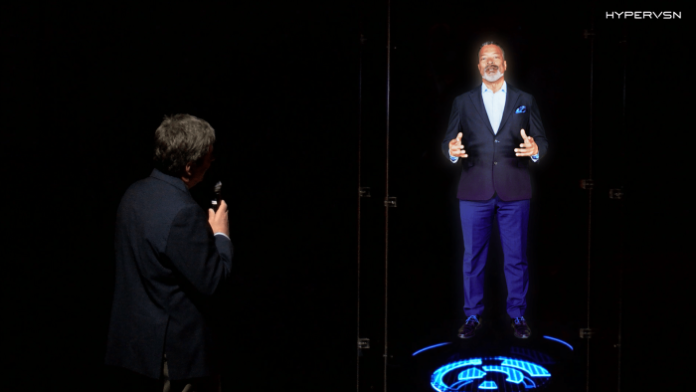 Held in Barcelona, Talent Knowledge Congress is the international forum for talent and knowledge management, organised by Impulsa Talentum Foundation. The event brings together companies, administrations, universities, research centres and professionals of recognised prestige in this field. The multi-sector event is to help organisations adapt and grow in this changing and highly competitive environment.
Michael Blackman, Managing Director of Integrated Systems Events, was to be presented in person as a winner of the Talent Awards during Talent Knowledge Congress, among other honoured winners such as Mr. Federico Mayor Zaragoza, Ex Director of UNESCO. 
Unfortunately, Mr Blackman was already pre-booked to speak at another conference over 7,000km away in Oman, but thanks to HYPERVSN, he was instead able to live stream holographically in 3D into the Talent Knowledge Congress to collect his award. 
Previous solutions to this challenge are often pre-recorded versions, whereby the recipient is unable to interact with the audience. However, thanks to HYPERVSN's Full Body Live Streaming, the presentation and acceptance of this particular award was all streamed live and as a 3D Hologram. Therefore, Michael Blackman and the team at Talent Knowledge Conference were able to fully interact live, as if Mr Blackman was actually there at the conference in person.
Blackman stated: "It was very disappointing for me not to be able to attend this year's Talent and Knowledge congress in Barcelona due to a previous commitment to attend the UFI Conference in Oman. After the success of appearing as a 3D image at the entrance to this year's ISE show, the possibility of appearing live with HYPERVSN's full body live streaming solution was not only novel, but also highly innovative. The organisers of the Talent and Knowledge Congress were more than pleased with the result and I was happy to be there thanks to technology, if not in person."
Bru Recolons, President, Impulsa Talentum Foundation confirmed: "Society demands that companies be treated with more humanity and that they work with a purpose. That is why, since the foundation, we have worked with companies to assume these values. Through the management of talent and knowledge, we improve the world. Thanks to technologies like HYPERVSN, we can now have personalities from all over the world at our events." 
Inessa Marmashova, CMO at HYPERVSN, added: "Connecting people all over the world is more and more defined by technology, but the human touch is more important than ever before. HYPERVSN Full Body Live-Streaming solution has a huge number of possible applications within education, events, and many other industries where human connection is vital, even over a distance of more than 7000 kilometres. Many thanks to Gordon Dutch at Re-Sauce, Michael Blackman at ISE and the HYPERVSN partners Publigrama in Spain and DESSCo in Oman for bringing this solution to life at Talent Knowledge Congress."