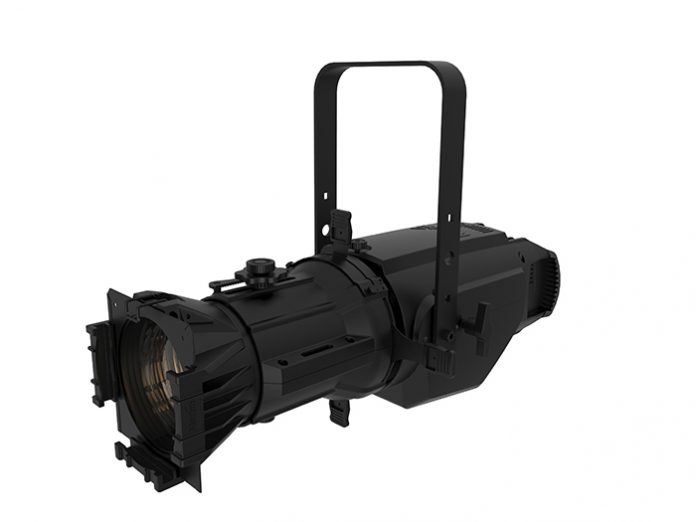 HARMAN Professional Solutions will showcase new Martin ELP LED ellipsoid fixtures at the 2019 NAMM show.
Martin ELP fixtures are available in two versions: Martin ELP WW offers industry-leading colour rendering and brightness, while Martin ELP CL delivers rich, saturated colours and class-leading output. Martin ELP fixtures feature industry-first advances in lighting functionality, including the highly efficient gear-based Fine Focus adjustment knob, and the Fast Focus feature which allows the fixture to be focused without data flow. Martin ELP also offers 16-bit dimming with four selectable curves and 26 colours presets that match industry-standard colour filters. Martin ELP fixtures can be configured with Martin lens tubes at 19°, 26°, 36° and 50° beam angles. Martin ELP fixtures can also be configured with a wide range of accessories, including gel frames and gobos, offering exceptional flexibility in lighting design and inventory management.
"For years, lighting professionals have relied on the versatility of ellipsoidal fixtures for concerts, plays and live events, and now Martin is raising the bar with new ELP LED fixtures," said Nathan Fleming, Senior Manager Entertainment Space Solutions HARMAN. "The Martin engineering team in Denmark not only designed class-leading optics, but they also delivered groundbreaking features like Fine Focus and Fast Focus. Combining superior output, optics and colour rendering with unparalleled ease-of-use and convenience, Martin ELP is the leading LED ellipsoidal fixture in its class."
Featuring optic assemblies designed in Denmark by the team behind MAC Encore, Martin ELP is designed to maximise efficiency and deliver a flat field of illumination for smoother blending and mixing between fixtures. The Martin ELP WW delivers 7,000 lumens of output and an industry-leading 97 CRI at 3000K colour temperature, for the truest colour representation on any surface. The Martin ELP CL fixture offers an impressive 6,900 lumens and a CRI of 85 in High Output mode, and 5,900 lumens and 90 CRI in High-Quality mode, with a colour temperature of 6,000K. Both models offer flicker-free operation for consistent light output—on and off camera.
Martin ELP combines legendary Martin quality with a suite of next-generation features to deliver new levels of performance, functionality and ease-of-use. Innovative gear-driven Fine Focus adjustment allows for precise, nuanced control, and enables users to lock focus exactly where they want it, instantly. The innovative Fast Focus feature brings the fixture to full output for 60 seconds simply by holding the Enter button for five seconds, enabling users to focus the fixture during set up without data. Halation Color correction removes atypical blue and brown halos when using Martin lens tubes. Martin ELP fixtures also offer 16-bit dimming with four selectable curves. Additionally, tilt knobs are placed out of the way of framing shutters, to allow quick, easy position adjustments.
Martin ELP fixtures can be configured with one of four Martin lens tubes at 19°, 26°, 36° and 50° beam angles. Compatibility with third-party lens tubes, gel frames and gobos make Martin ELP fixtures highly flexible and allow for seamless integration with existing rigs.