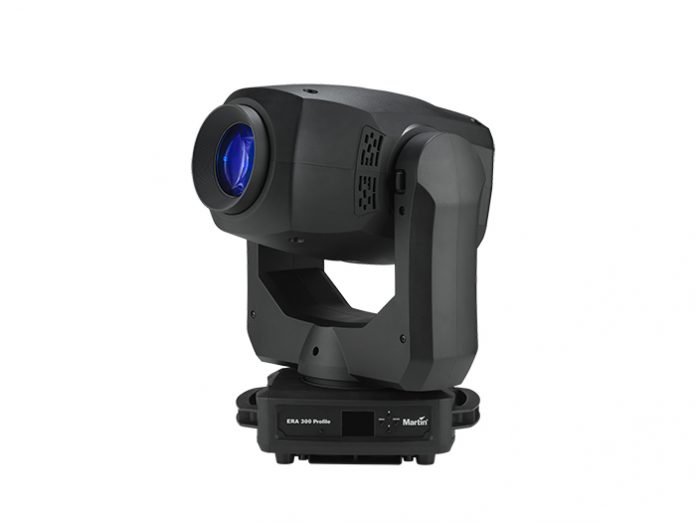 HARMAN Professional Solutions has introduced the Martin ERA 300 Profile for the 2019 NAMM show.
The Martin ERA 300 is an ultra-compact profile fixture with an extremely efficient 260W white LED engine that produces a sharp gobo projection with the flat field that Martin fixtures are known for. Designed to set the new standard compact and affordable lighting for the rental and live production market, this modern, everyday workhorse fits nearly-anywhere, is easy to handle and rig, and takes up less truck space. Plus, Martin ERA 300 boasts a full suite of professional features not commonly found in other fixtures in its class, including CMY colour mixing, 1:2 zoom, 9,500 lumens of output, electronic dimming and strobe, colour wheel, two layers of gobos, iris, rotating prism and pan/tilt.
The Martin ERA 300 Profile's light source delivers more output than typically associated with similar-sized and featured fixtures. Fully electronic dimming ensures extremely fast strobing, instant intensity control, and a flat, consistent field that can be maintained down to zero per cent. Onboard CMY colour mixing offers wide-ranging versatility from subtle pastels to deep, vibrant, colours. And, with 13° to 28° of zoom, the Martin ERA 300 Profile is perfect for various trim heights and is wide enough to ensure great coverage on smaller stages.
"We're excited to roll out the ERA 300 Profile because it checks off so many boxes for situations where options were limited previously," said Mark Buss, Lighting Product Manager, HARMAN. "We've received many requests from MAC 250 Entour customers asking us to bring a modern replacement to the market. The MAC 250's small footprint, price point, and rock-solid performance established a new category in the market, but it was time for an LED-based version that also features colour mixing and zoom, without compromising the core idea of the original. The Martin ERA 300 Profile meets all of these needs, making it ideal for small and mid-sized concerts and touring, live TV productions, corporate shows, cruise lines and houses of worship."
"We are setting the stage for a new era in compact and affordable lighting for the rental and live production market," said Peter Skytte, Tour Lighting Manager, HARMAN. "The Martin ERA 300 Profile bundles tools that are typically only available to Designers on larger budget productions. As an everyday workhorse, it is built for fast turnarounds, high utilisation and low maintenance to give our customers peace of mind and a strong return on investment in this competitive landscape."
HARMAN is demonstrating its Martin ERA 300 Profile in Booth #14508 at NAMM 2019.