As a specialist in visual content delivery, Jon9 thinks big. Not necessarily in terms of screens, pixels and layers, but in the bigger-picture possibilities of experiential entertainment and visual storytelling. With technical and creative expertise in equal measure, he has over many years developed a productive relationship with the Green Hippo team and its Hippotizer Media Server range – the toolkit he finds best suited to enabling his vision.
Jon9 first used Hippotizers in building the media playback solution for Cirque du Soleil's LOVE show in Las Vegas in 2004. It was a record-breaking system at the time. Since then, he has gone on to produce numerous ground-breaking immersive and experiential projects through his company Holonyne Corporation, consistently mastering the technology available to serve his increasingly creative vision.
In 1987, he founded the first videowall programming company in the US – Programination Inc. From delivering 640×480 resolution visuals to trade show videowalls from ¾" tape decks, he progressed through Beta SP, to video discs and DVDs. "Disc-based media gave us random access and enabled interactive installations," he said. "Finally, in the 90s, as personal and business computer technology evolved along with the emergence of the internet, we started seeing dedicated media servers in the entertainment and corporate markets.
"These players – ranging from very simple and relatively inexpensive to very powerful and very expensive – provided a lot more flexibility in how we produced content and how we delivered it to the display systems. Along with random access, media servers allowed different levels of real-time processing that could be controlled from lighting desks or a keyboard. We could link up multiple servers, synchronise them, and deliver high resolution content to video walls and display systems of any size. This evolution transformed my business and creative life."
His creative interest was sparked in the early 90s when he built the video wall and designed the content for a production by the Center Theatre Group at LA's Mark Taper Forum. "When I saw the unique power of the multi-screen medium to tell stories in a theatrical context, I was hooked," he said. "Since then, I have continuously developed the idea of juxtaposing multiple screens, and multiple layers of video on the screens, to create a post-digital form of storytelling that is experiential instead of presentational."
It's this focus on the human experience at the receiving end of all this technology that drives Jon9's work today. As media server technology has grown, so has his ambition to think creatively about delivery. In this, his dual skillset has served him well. From a technical and engineering standpoint he specifies, manages and programs large-scale, complex installations, while as a video artist, editor and producer he creates content – in optimum formats for each application.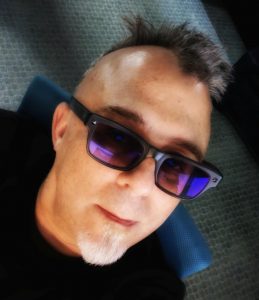 Recalling Cirque du Soleil's LOVE, he said, "We put in 20 Hippotizers to drive the 28 projectors. It was the largest video system ever put into a permanent theater at that time. The creative team's requirements were substantial and compromise was not an option. Green Hippo had the solution, and importantly, were willing to support us with custom features as necessary. They were fully engaged and helped us with programming as new creative and technical challenges emerged."
After LOVE, he returned to Los Angeles with a new company, Holonyne Corporation Inc. For his first project – a 96-screen video art installation at LAX – he designed a system of 63 Hippotizers to run over 4.5 hours of visual art by 17 different artists. "Hippo provided the flexibility in programming for each of the artists to realize their individual visions," he said.
Through various projects, the Green Hippo team has been on hand to help wherever needed. "A couple of years ago I produced an immersive 'virtual videowall' for the Ericsson booth at Mobile World Congress in Barcelona," he recalled. "We were on a very compressed time-frame with a high-profile client. My buddies at Green Hippo were instrumental in helping me acquire and configure the Hippos quickly for the show, as well as generously sharing their contacts in London and Barcelona for other types of hardware and services. The show was a big success."
Expanding on his preference for the Hippotizer platform, he said: "The first Hippos started out doing things that no other media server could do – and that advantage has stayed true over the years. As a technical platform, Hippo is robust and reliable with wide-ranging capabilities, and a range of products to match the scale of the project. As a creative platform, it offers the ability to discover new forms of digital communication as well as support traditional programming."
He added: "The biggest aspect of Hippo for me is the ability to manipulate multiple layers of video in real time. This alone completely transforms the creative process, allowing the design of a multi-layered expression to emerge through creative flow. The ability to change the Output layout easily and quickly is important for me, too. I have about 70 different displays in my studio and I often reconfigure different Hippos to drive different screens."
Jon9 is currently developing a multiscreen media experience titled 2025: THE HISTORY OF THE FUTURE, which examines what it means to be human in the virtual age. "It explores the ever more frenetic dynamic between humans and machines at a time in the near future when a full resolution of this relationship may mean the survival of one over the other. It's no accident that I'm using Hippos – some of the most complex and evolved digital display technology available – to tell this story. This is an example of a multi-screen, multi-stream immersive media experience that I believe represents the future of entertainment."
From a technological viewpoint, Jon9 has a clear idea of the trends that will shape the advancement of media servers and media management tools. "I believe we'll see the integration of media servers into immersive/theatrical virtual programming scenarios, as well as the integration of Augmented Reality systems with large-scale display environments," he said. "We'll see new control technologies that are gesture, voice, phone and touch-based, with holographic interfaces, and we'll see the convergence of media players with the display systems – where each display is part of the embedded server network."
In the big picture, Jon9 believes the future is bright for visual media. "I've always felt it was very difficult for many others to grasp my ideas about using videowalls to tell stories," he said. "Suddenly, it's what everyone is doing on Zoom. The current COVID-19 scenario has significantly propelled immersive technologies and virtual programming forward at hyper-speed. When the need to isolate goes away, these new technologies and applications are going to continue that enhanced trajectory into the future."
It's an exciting future, with more visual information than ever, and greater opportunities for delivery in ways which enhance the human experience. "We need to find new ways to give it value," he concluded.