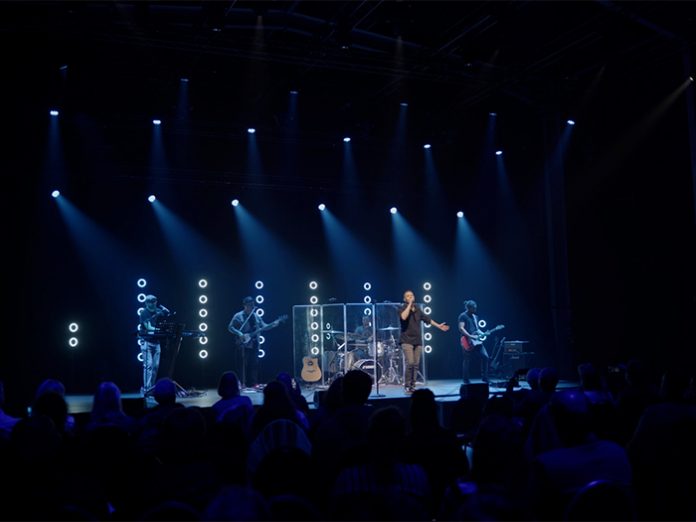 To mark his album release, singer-songwriter David Vidano embarked on a small concert, observing COVID-19 health and safety guidelines, in the rehearsal hall of TTL Event Solutions in his hometown Ochtrup, Germany.
Lighting Designer, Jens Hillenkötter, assumed the role of DoP, and for the first time deployed the GLP Creative Lights 1 Plus (Creative Light1 Plus) that he had been eager to use.
Some 40 pieces of the compact, flexible LED fixtures augmented the artist's set. "These were still field test devices because the Creative Light1 Plus were not yet available," he said. "I recognised the creative potential of Creative Light1 when I saw the prototypes for the first time at GLP's HQ in Karlsbad. I ordered immediately and am happy that I have been able to use them."
For Vidano's album release concert, the task was initially to create a lighting design in the form of a floor set, which on the one hand would be individual and on the other be logistically as compact as possible and easy and quick to use. The set design also needed to be quickly adaptable to different stage designs.
"We agreed very early on that due to COVID-19, touring would have to adjust at short notice to the fact that budgets would be cut back and that we would have to use predominantly the venues' existing lighting technology," explained the designer.
The GLP Creative Light1 Plus fits well within the concept. They were used in a matrix formation that took the place of an LED wall and was mapped to individual pixels from the lighting desk.
"I particularly like that the Creative Light1 Plus is extremely compact and runs on batteries," said Hillenkötter. "Since they can also be controlled wirelessly via LumenRadio CRMX, they can be adapted to existing stage setups. This means that I can adapt to changing requirements very flexibly. In addition, the devices save a lot of space in the charging cases with their very small pack size."
GLP Creative Light1 is a wireless, battery-powered visual effect, designed for the entertainment market. Each device has 24 individually controllable RGB pixels. With the help of the integrated double layer FX engine, breathtaking lighting effects can be created. The LED disc-type fixtures are perfect for setting creative visual highlights, illuminating walls or as a set element in dark areas.
Creative Light1 can be controlled via IR remote control and offers functions such as colour selection, colour samples, sound-to-light, etc. GLP Creative Light1 Plus also has an integrated LumenRadio CRMX module for wireless DMX control. Both models can also be controlled via an app.
Since Hillenkötter has purchased the Creative Light1 Plus from GLP, he will be using this clever, and highly creative LED solution again in the future. "I ordered the first units immediately because I could see so many possible uses," he said. "This ranges from an effective stage background at live concerts to eye candy at corporate events."