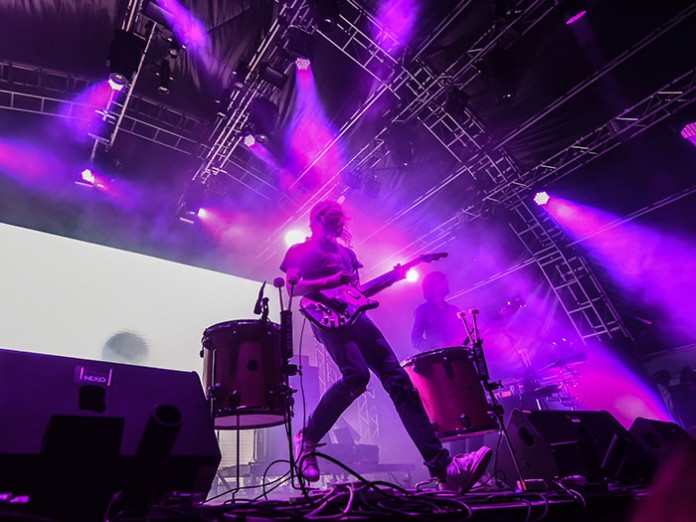 GLP's premium impression LED range was out in force recently at the eighth Clockenflap 2015, a three-day outdoor music and arts festival in Hong Kong.
Incorporating international, regional and local live music, film, art installations, street, and kids' area, this year it attracted 60,000 people, a new record, and it is now widely considered to be Hong Kong's marquee music event of the year.
One of the headline acts on the Atum Stage was American duo Ratatat, and GLP fielded 52 x X4 LED moving heads, featuring 19 RGBW high output LED's, and 20 X4 Bar 10 high performance battens, utilising 10 LED's, across the 20″ length. This complemented the music, which specialises in "twisting, intertwined melodies, space-age synths, and grooves which are harmonic, hypnotic and nigh on impossible to stay still to."
Lighting and trussing for this stage were provided by AHM Engineering Co, whose own lighting operator, Stephen Hui, ran most of the shows along with Australian, Dave Jackson. Lighting design for the stage came from Luke Hall / A-Team Plus (HK) Ltd and production manager was Peter Gorton.
Stephen Hui reported that all the visiting LDs were happy with the performance of the GLP fixtures. "And when the LDs are happy, I'm happy," he said. "There was not a single failure or service required throughout the entire festival. All did their job with super reliability."
And Michael Muenz, GLP General Manager, Asia, added: "I was proud to see that the continuous growth of GLP has culminated in our fixtures arriving on the stage of Hong Kong`s biggest music event."