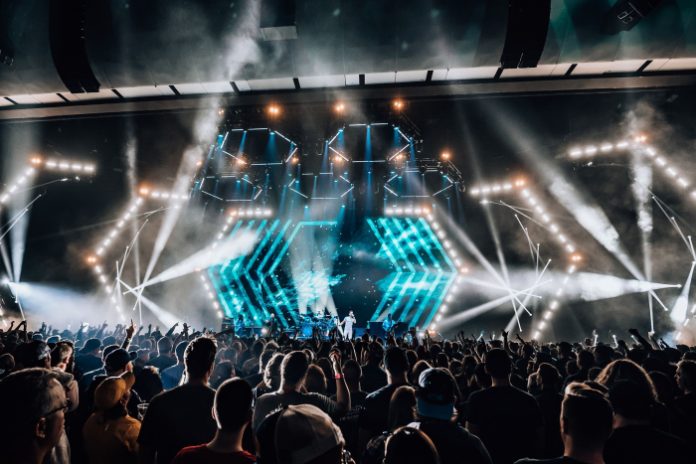 Every two years, American rock band 311 celebrates 11 March 2022 with a party-style celebration concert for fans over the course of two nights at the Park Theater, Las Vegas (Park MGM).
Lighting Designer, Bobby Grey of Notan Creative and the production team were tasked with exceeding the excitement of prior incarnations of the biennial event. "We went into this wondering how we could top what we did last time… but ended up taking the whole production to a new level," recalled Grey. Helping him along the way once again were a slew of GLP impression X4 Bar 20 and JDC1, which have frequently been his go-to products in the past.
Grey sat down with band management – John McKeever, Dave Belis and Evan Anderson – all from a touring background, and set out his idea of building on the band's 'hive'-themed aesthetic.
"We all leaned towards something that would break up the form of our usual square video wall upstage, and instead landed on this 'interdimensional portal' concept," he explains. Grey set to work drawing layers of the hexagon portals coming downstage, but feared for the budget. "Dave, who was also our PM, loved it and started reworking the budget," he added. "The band agreed and we ended up with something fantastic."
Grey then considered how to bring the best out of the hexagons: "I knew we had to have a versatile fixture to line the geometry of those key pieces. The TV show I was working on leading up to this had several hundred JDC1 [hybrid strobes] and X4 Bar 20s. In the past, while we have used the X4 Bars on this show to line geometry, we have only really utilised the JDC1s for their bright strobe functionality.
"I knew that by packing them really tightly it would allow us the kind of versatility this gig dictated. And of course the X4 Bars did a great job lining the hexagon pods. We were able to go from the RGB pixels framing the set to big blasting looks with the white pixels in the middle."
JDC1s were run in SPix mode, Grey continued: "In this way we could do complex hits, zips across them and dazzling sparkle looks. They really kept things interesting for the whole gig. And as for the X4 Bars, by running these in single-pixel mode we could really do some amazing things with the effects engine." This included presenting each band member in their own light 'cage'. The LD explained: "In the initial renderings I had a look that was just the X4 Bars, tightly zoomed, sending sheets of light down from the pods. In the show we brought the pods in low multiple times and blacked out everything but the X4 Bars, surrounding each band member in their own little cages of light."
This year, the turnkey lighting and automation package was supplied by 3G Productions from Las Vegas. Paying credit, Grey said: "Our reps Jay Curiel, Andy Ruiz, Corey Felgenhour and Eric Cruz were fantastic from top to bottom, working tireless hours with their team to pull it together.
"They brought in the brilliant Todd Turner and his crew, Ed Gomez and Virginia Squasic, who worked with the band's longtime crew chief Chris Harshfield and master electrician Jeremy Davidson. These guys really knocked it out of the park and got this complex rig up fast and right."
Among the large production team was touring lighting director, Alex Paralueyous. "He's been with me since I took this gig over," Grey added. "We have built the show together from scratch, including all the video content… plus, he's an amazing sounding board."
Reflecting on the show, the LD concluded: "The biggest challenge was coming into this feeling like I had done absolutely everything we could do in that room, and yet fearing that anything I did was going to not live up to 2020's show. Just looking back at the pictures I'd say that wasn't a problem at all, as a GLP fixture was the key factor in every shot I looked at. We didn't have a single GLP failure… and that's saying a lot considering we had 132 JDC1s and 60 X4 Bar 20s in the rig. And I'm not ashamed to say I rode them hard on both nights."
He concluded: "They performed equally well, both blasting to full, burning retinas, and in subtle looks, framing in pretty down moments in the show. All around, the show was fantastic because these fixtures were the centrepiece of the project. I'm just glad to have a manufacturer making such beautiful lights for us to use and am extremely excited to see what comes next from GLP."