From a base in producing both original music and remixes a decade ago, Canadian electronic music duo Zeds Dead branched out to explore a vast range of genres including UK garage, electro house, hip hop, drum and bass and more.
Now a staple on the international touring circuit, such diversity poses many challenges for the lighting team, led by production designer Erik Mahowald (of Bending Lite Productions).
Recently they have been headlining package tours for their record label Deadbeats … a series of 'one-off' formatted shows in a varied combination of festival stage 'takeovers' and standard concert venue applications at venues ranging from 5,000-50,000 capacities. This demand on scalability, and the random nature of the shows, creates further challenges for Mahowald. But fortunately GLP fixtures provided the necessary versatility.
"The design was originally debuted at Red Rocks Amphitheater [Denver] which consisted of 50 GLP JDC1 fixtures, while GLP impression FR10 Bars were introduced very recently at our Aragon Ballroom [Chicago] and Masonic Temple [Detroit] shows," he says. Lighting inventory for both these shows was provided by Chicago-based LEC – LIVE Entertainment Chicago.
Bending Lite have been working with Zeds Dead since 2017, and have created two production designs for Deadbeats shows. "This is our first tour with them, and we also handle all programming." The latter is in the hands of Davis Alexander.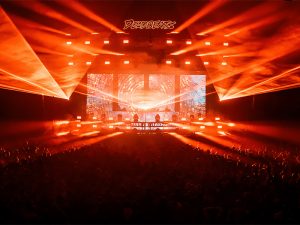 They were first introduced to Zeds Dead by production manager Daniel Ostroff, who asked them to assist on larger production applications such as their major headline shows.
"For the Deadbeats shows, we had one request in that they didn't want one big upstage wall, but rather four vertical stripes," the designer continued. "From that we moulded something that would look bold, powerful, and clean, with lots of definitive straight lines that would create architecture. The two DJs stand on an elevated platform upstage of the tiered deck trussing, creating a massive platform."
Wanting to fabricate a rig that would fit the full width of venues mirrored flown and deck trussing was designed to create a picture frame aesthetic. This versatile set fits the vast library of music … and, of course, the sheer variability of GLP's hybrid fixtures.
Each of the four identical trusses included six FR10s, and eight JDC1s, with the flown rig mirrored to the deck to create maximum beam power. "The music varies greatly night to night, and having versatile fixtures like this is something we count on," Erik Mahowald continues.
"We used each of these units to their fullest capacity and most extended modes, and we appreciate their ability to create what seems to be an infinite number of looks. The functionality of the JDC1 is unmatched.
The beauty of GLP fixtures, he says, is that they can be used for so many different applications. "For example, we can use the brilliant colour and optics to create transcendent transitions, while also using the same fixtures to blow the audience away with powerful white strobe hits.
"The FR10s were used as a statement piece in lining the trusses of the rig. We used them in their full capacity mode to create the most specific of looks. With the ability to individually zoom pixels, we were able to programme looks we had not seen before … which was something we lighting designers love."
Having used GLP fixtures consistently for the past four years, Mahowald has become "a huge advocate" of their products. "They are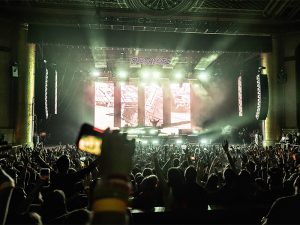 an essential tool in my toolbox as a designer, since we design a broad range of events from festivals, concerts, and corporate events.
"To put it simply, there are no substitutions for these two fixtures," he said in conclusion. "With the JDC1, there is no single fixture that can compare to its versatility—not without having multiple high-quality fixtures. The FR10 is also going to be a powerful tool. I think its output and beam properties create stellar aerial effects that are unmatched in comparison to other battens. The colour rendering is incredible and I can't wait to have it out on more shows in the future."
Finally, he also had praise for LEC. "They are a fantastic vendor and we very much look forward to doing many more tours and one offs with them."