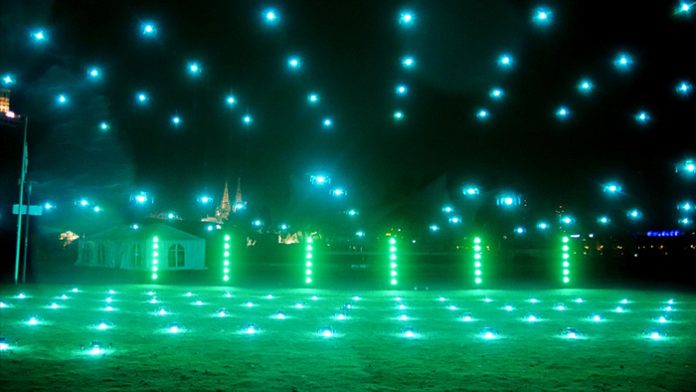 The proposed lavish party for the launch of Microsoft's new Xbox Series X unfortunately had to be waived due to the COVID-19 pandemic. Nevertheless, the market launch of the new generation of consoles in the Gamescom city of Cologne was celebrated with the Xbox Dream Stream.
The highlight was an impressive drone show over the Rhine. At the start of the 150-drone extravaganza, Jens Hillenkötter, in his role as Executive Producer and Director, on behalf of the GUD.berlin agency — deployed 36 Creative Light 1 Plus fixtures from GLP.
GLP Creative Light 1 (CL1) is a wireless, battery-powered visual effect, designed for the entertainment market. Each device has 24 individually controllable RGB pixels, and with the help of the integrated double layer FX engine, lighting effects can be created. The LEDs are designed for setting visual highlights, illuminating walls or as a set element in dark areas.
Two versions of the product are available: Creative Light 1 can be controlled by IR remote control and offers functions such as colour selection, colour samples, and sound-to-light. GLP Creative Light 1 Plus also has an integrated LumenRadio CRMX module for wireless DMX control. Both models can also be controlled via an app.
For outdoor use in Cologne, Hillenkötter chose the Creative Light 1 Plus model with wireless control. The total of 36 LED effects deployed were attached to six vertically standing pipes in groups of six. In this configuration they offered an impressive backdrop for the exciting drone launch.
"GLP helped me out with test equipment because my own order was held up at Customs," explained Hillenkötter. "I saw the prototypes of the Creative Light 1 a long time ago at GLP in Karlsbad and was immediately impressed."
He has enjoyed a very close relationship with GLP for many years. "As the first point of contact, Andreas Brandt is always there for me and keeps me up to date with new developments, since as a designer I am naturally always pleased to learn about new toys," he said.
"Before using the Creative Light 1 Plus in Cologne, I already used it successfully at a David Vidano concert. With the Xbox Dream Stream, they were used as eye candy in the camera background during the drone start sequence."
Hillenkötter concluded: "The CL1 Plus can be used very flexibly— it is extremely compact and also battery-operated. Thanks to the wireless control option using LumenRadio CRMX, the setup effort is minimal. A small, fine tool that is fun."