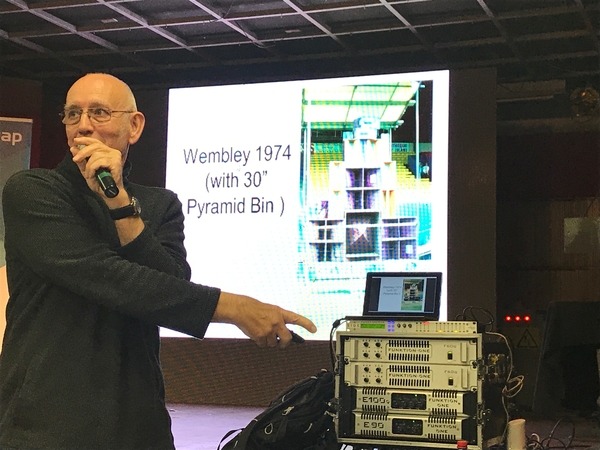 Funktion-One co-founder John Newsham recently spoke at the Congreso Internacional de Sonido in Santiago, Chile.
The conference – organised by INACAP, a non-profit educational institution comprising the Chilean University of Technology, the Centre for Technical Training, and the Professional Institute for technology – ran from 4-5 October 2017. Newsham joined a programme of speakers from Mexico, Argentina and Brazil to deliver a 2-hour presentation on the history of audio as it relates to the work of Funktion-One.
According to Cristián Jiménez Rosas, Course Coordinator at INACAP, said: "For our students, it is very important to listen to a global icon in the design of loudspeaker systems and allow them to associate what they have learned in the university with real practical experiences," he said. "Visits from professionals with such vast experience in the audio market is always beneficial for our students, both for the anecdotes full of history they relate and for how simple the solutions they have implemented seem to be."
"We believe that the most important thing our students learn is that in this world of audio, where technology advances very quickly, it is essential to keep abreast of the 'state-of-the-art 'and the solutions developed by the different brands of equipment manufacturers," Rosas continued. "For this reason, we are interested as a university in promoting research in our students as part of their training as sound engineers."
Newsham added: "It was really great to meet the next generation of Chilean sound engineers and to discuss the principles that the Funktion-One team apply to our everyday work," he said. "Judging by the young talent coming through INACAP, I'd say Chile's live music scene is in safe hands."
In addition to inspiring the next generation, Newsham's trip to Santiago provided the perfect opportunity to catch up with Funktion-One's Chilean distributor Púrpura Producciones. Indeed, it was through Púrpura – and its work providing high-end rental and installation audio to the domestic market – that INACAP first became aware of Funktion-One.
Founded in 2009 by Sound Engineer Joaquín Baeza, the company's colourful name was inspired by the psychedelic spirit of Hendrix's haze and Deep Purple's smoky rock. In 2013, Púrpura aquired a Funktion-One rental system comprising 2 Resolution 4Es, 2 F218s and 2 PSM12s, as well as an X40a, an X2a, an E100 and two F60Q, thus allowing the company to service what would quickly become a long list of exclusive concerts and events.
From standout gigs working with producer Alain Johannes (Chris Cornell, Queens of the Stone Age), to working with iconic Chilean legends, Electrodomésticos, at the Municipal Theatre of Santiago, and further afield to the first ever Festivale Nomade, the southernmost festival in the world, some 1,000km south of Santiago – Púrpura helped raise the standard of the Chilean live music experience.
"It's been an absolute pleasure visiting Joaquín and seeing first-hand the great work that's been achieved over the last 7 years," remarked Newsham of his time in Chile. "In particular, it's incredibly heartening to see how Funktion-One has been enthusiastically embraced here in the live music world – and that's due in no small part to the example set by the Púrpura team on touchstone projects like the Cariola."