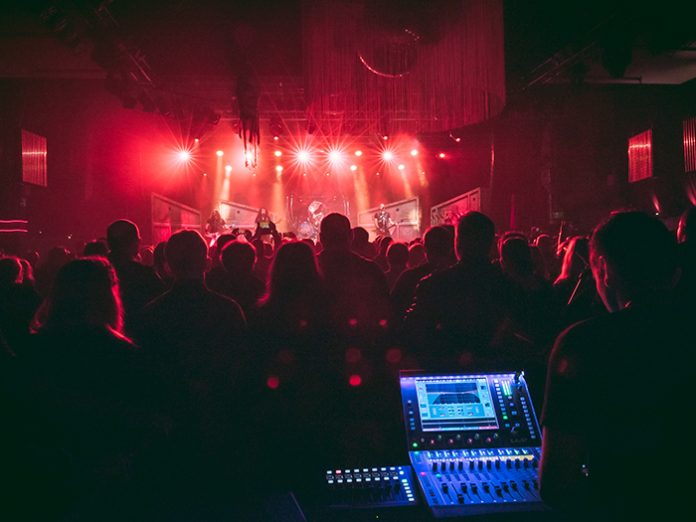 German heavy metal heroes Accept rely on Allen & Heath's dLive system for FOH and monitor duties on their current worldwide Rise of Chaos tour.
Founded in 1968, Accept are without a doubt amongst the pioneers of the German heavy metal scene and landed their first major international success in the early 80's. After a 10-year hiatus, they reformed in 2009 with a new lead singer and since then have achieved multiple Top 10 chart entries and regularly perform across Europe and America.
For the current tour, the band decided to use an Allen & Heath dLive system for the first time. "As we mostly travel by plane to all our international shows, the complete monitor and FOH set-up needs to be extremely compact and light," Oliver Tschotow (the main sound engineer for the tour) explains.
Tschotow's full set-up includes a dLive C1500 Surface with Waves card, a CDM32 MixRack fitted with both AES and MADI cards, two DX168 Expanders, two IP8 Remote Controllers and a further two ME-1 Personal Mixers. Additionally, as there's no separate monitor desk for this tour, IEM mixes are prepared through the C1500 surface and each musician has the ability to subtly change their individual monitor mixes on stage, using the dLive OneMix app.
"We are also working on a project with Accept for next year called 'Symphonic Terror' – these shows will feature a symphony orchestra and we needed a system that can deliver a minimum of 24 faders, 120 channels and 50 busses, all in a compact format and with 96kHz signal processing, MADI and AES, virtual soundcheck and multitrack recording – again at 96kHz.
Plus, we also need access to multiband EQs, dynamics and plug-ins, in order to be independent of any external outboard gear. On top of that, we wanted an individual iPad-based monitoring solution, worldwide support and everything on a tight budget – not an easy task!" claimed Tschotow. "However, with our new dLive system we've found an unbeatable compact solution, with fantastic features and stunning audio quality – in my opinion, no other brand can deliver anything similar!"
As Accept don't use any outboard effects during their shows, the quality and flexibility of dLive's internal effects and plug-ins play a crucial role in the concept. "The internal plug-ins sound amazing, so I don't have the need for any external plug-in solution", says Tschotow. "One of the most important tasks in metal music is the processing of the drums – these need to be punchy and aggressive as hell! This is where the Transient Controller and Opto compressor plug-ins shine. I'm using them both in a parallel compression scenario and separately on the single drum signals, such as the snare drum."
"A big problem sometimes is the bleeding of the cymbal sounds into the microphone of the lead singer, Mark Tornillo," Tschotow continued. "The Dyn8's 4-band Dynamic EQ helps me lower the high frequencies to 12dB when Mark isn't singing. I use another band as a DeEsser and the lower band is set to compensate for the proximity effect. With dLive, I have all the tools to work creatively with sounds, introduce colours and deliver a polished mix – it's simply great!"