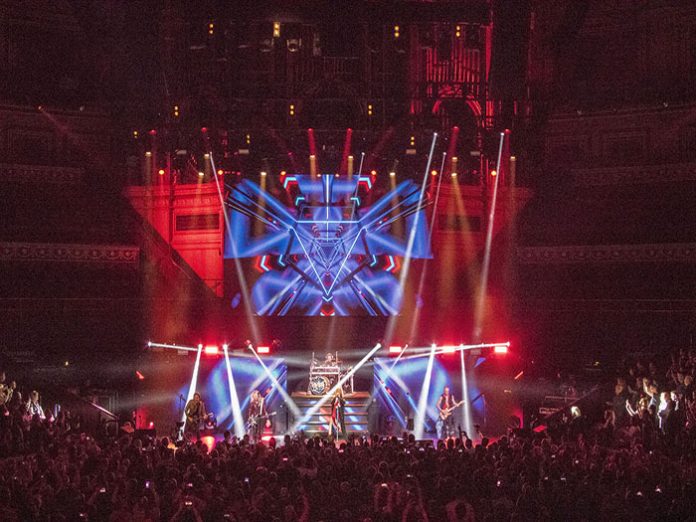 Bristol-based lighting and video rental specialist Fineline provided LED screen for the 2018 Teenage Cancer Trust (TCT) shows at the Royal Albert Hall, which has seen another series of show-stopping performances and unique collaborations which help raise awareness and funds for the charity.
The 2018 line-up included Kasabian, The Courteeners, Def Leppard, Ali Campbell, Astro and Mickey Virtue from legendary reggae band UB40 who appeared as a trio, Nile Rogers and Chic, side-splitting comedy from Russell Howard as well as The Who's Roger Daltry, who has been instrumental in driving the annual RAH concert week since it started in 2000. This year he curated an evening of special guests including Muse frontman Matt Bellamy leading a super group including Graham Coxon who performed some of the Beatles' greatest hits.
Fineline's Rob Sangwell said: "It has been a fantastic experience all round being part of these incredible shows. The atmosphere has been very inspirational! TCT is a great cause and the organisation is dedicated to providing a top-quality production and an equally impressive array of talent and entertainment for everyone to enjoy!"
Fineline supplied 153 panels of their Martin by Harman VDO Face 5, a 5.2 mm pitch LED screen surface which was configured throughout the week as a flown upstage surface measuring 8.5 metres wide with a drop of 5.1 metres.
The event's lighting and video was designed by Gordon Torrington of PRG.
Video content was co-ordinated by Chris Farrants, who was located in 'video world' under the stage, and he managed all the various sources via his Grass Valley Karrera PPU, including cutting the 3-camera mix and receiving feeds of all the playback and ambient footage from a Catalyst media server.
Fineline were the first UK rental company to invest in Martin by Harman's VDO Face 5 last year, chosen because they were looking for a "flexible and good quality LED product" explained Sangwell.
Sangwell, who is also a bit of a health and safety guru and consultant, was impressed with the product's Beaufort wind force scale rating of 8 which is "quite breezy" and applies whether it's flown or ground supported.
It has proved to be a solid investment for Fineline. The screen has been constantly busy on a wide range of shows and events including Bristol's Love Saves the Day festival, the high profile Eden Sessions, the Outlook and Dimension festivals in Pula, Croatia, the Resistance dance event in Motion, Bristol, The Downs Festival, a special DJ performance by Orbital at The Marble Factory and a host of corporate and experiential marketing projects among many others.