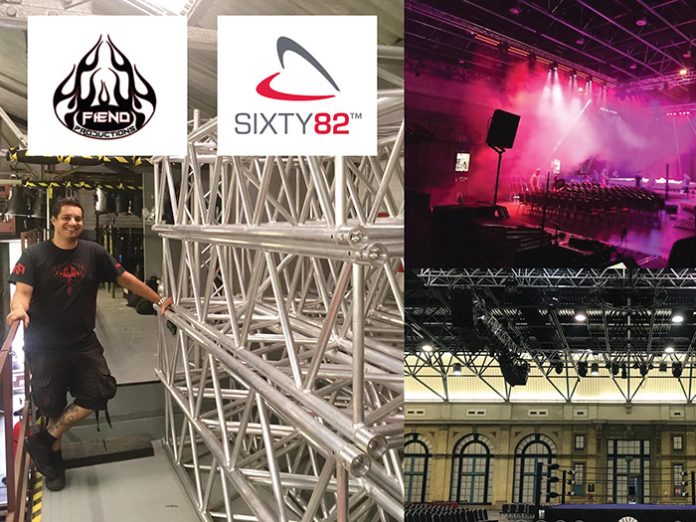 Dry hire and production company, Fiend Productions has provided a Sixty82 trussing system for the Progress Wrestling 2018 shows at London's historic Alexandra Palace and SSE Arena Wembley venues.
Jess Matthews, Managing Director of Fiend Productions, approached A.C. Entertainment Technologies (AC-ET) to invest in high load trussing for the shows at Ally Pally. After being provided with a range of options by Steven Farnsworth in UK Sales at AC-ET, Jess decided on Sixty82.
He commented: "The quality of the welds and construction of the Sixty82 truss is very noticeable, and the high load capacity allows us to be a lot more creative."
Each section of Sixty82 truss has a built-in RFID tag equipped as standard and allows individual pieces of the truss to be tracked and identified. The SixtyTag is compatible with a wide range of scanners and 3rd party software. Matthews continued: "It is very useful for our rigging inspection records. We are moving towards using RFID for full asset tracking and the fact it is integrated here is a definite benefit."
After the shows at Ally Pally, the truss was used in the Victoria Warehouse in Manchester and the SSE Arena in Wembley as part of the Progress Wrestling tour, before being added to Fiend Productions' hire stock.
Matthews concluded: "Sixty82 truss has provided a significant upgrade to the expansion of our rigging department. We are very pleased to have Sixty82 truss in our hire stock, and will continue to increase our stock as our business grows."
Unveiled to the UK market earlier this year at PLASA Focus, new brand Sixty82 is an alliance featuring innovators from three countries with over 100 years of entertainment industry leadership between them. They came together to bring a fresh view into the market, providing innovative, next-generation trussing and staging systems.