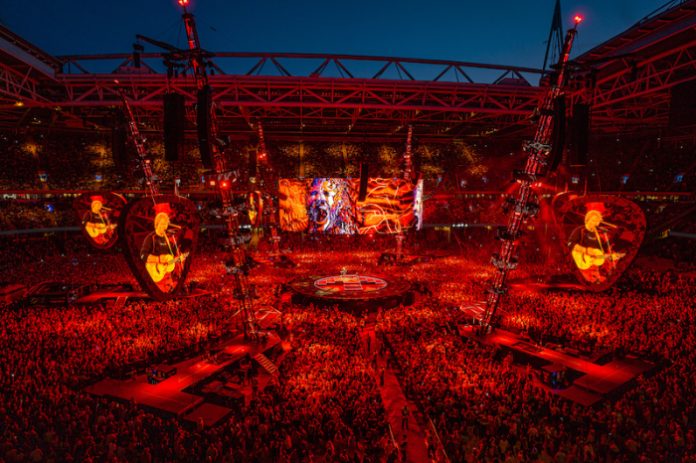 Ed Sheeran returned to stadiums in 2022 with the Mathematics (+–=÷x) Tour; an all-new, in-the-round live experience featuring a Mark Cunniffe production design that included a colossal halo screen and six huge LED guitar picks flown around a revolving central stage.
This bold production design, which was initially dreamt up towards the end of the preceding Divide tour, was only ever going to be realised by a handpicked team of industry experts.
Evoke Studios was brought in by the tour's Creative Director, Mark Cunniffe of Twotrucks Productions. "I asked Evoke Studios on board alongside a few others as this project was such a huge undertaking, too big for just my studio to deliver," he said.
"I don't believe a show necessarily needs 20 to 30 pieces of content, just five or six visual moments that are especially impressive or unexpected, with the rest of the show used to build context. For this tour, I gave Evoke Studios the responsibility of creating those big moments."
Having collaborated successfully with Cunniffe in the past, EvokeStudios – whose Mathematics Tour team is led by Vincent Steenhoek and Urs Nyffenegger – was commissioned to mastermind the video content for a total of 10 songs from the artist's extensive repertoire, including fan favourite Bloodstream and multi-award-winning hit, Thinking Out Loud.
"For 'our' songs we wanted to deliver consistent quality, despite the different look of each track," added Steenhoek. "It's super complex to design content that works in-the-round, unless you choose to segment it and turn it into 2D screens again, which itself is counter intuitive. This project was both exciting and daunting at the same time, but as a studio, we truly thrive off of complexity and testing ourselves creatively."
Twotrucks Studios used Notch and VR to show Sheeran its vision in real-time, having also used Evoke Studios' stencilled mood boards of its 3D designs. The team developed ideas to craft content, materials, and 3D models for several applications, then imported these stencils into Notch to light and animate the scenes.
"Notch allowed us to use the same assets across all the production teams," said Nyffenegger. "For example, in Shape of You, the rendered shapes were used for the video effects to influence the IMAG itself, the images behind the IMAG, and where it appeared on stage. The most considerable success of Notch in an environment like this – more so than real-time and the 3D editing capabilities – is the flexibility you have to integrate content produced offline with real-time IMAG assets and create a coherent look."
As well as developing video content for the 10 songs, Evoke Studios together with Matt Cromwell from Twotrucks Productions provided playback system consultancy, disguise media server programming and workflow, and content previsualisation.
The company, which is well known for leveraging the latest in performance design technologies, used motion capture and photogrammetry technology to construct a virtual model of Sheeran that could be used during the content creation process, ensuring his fans could connect just as strongly with the song-specific videos as they could by looking at the artist himself.
"The photogrammetry enabled us to create what is arguably the biggest look of the tour, in Bloodstream," noted Nyffenegger. "The inspiration for that song's video content came from the lyrics, which reference different chemicals flowing through veins and how they can affect you. We wanted to make those mental processes visible, and by being able to animate Ed's face to a high level of detail (despite the fact that the model is heavily treated) we could really represent a whole range of emotions in a particularly striking way."
"Bloodstream is one of Ed's biggest live tracks," agreed Cunniffe. "Vincent and Urs had the idea to use photogrammetry. While I wouldn't usually propose an idea where we'd need the artist's physical time to create a piece of content, I thought that in this instance, it was going to be worth it. Anyone who has seen the show can tell you that it was a risk that paid off. It's already become a classic, iconic look for Ed."
Steenhoek also pointed out the long-term benefits of going through the motion capture process with Sheeran, as this now gives EvokeStudios and Twotrucks the ability to take him into the Metaverse and create even more unique video looks further down the line.
Another challenge the visual content teams faced was during the pre-production process, many of which were caused by the sheer size of the stage. "There isn't a rehearsal studio in existence that would have allowed us to build the full stadium stage and gauge how the screens would look from the furthest seats in the venue," noted Steenhoek.
"This creates a lot of problems, including what frame rates to use and how to scale the text and content itself. We want the video to look impressive whether you are standing 10m or 100m away, and this was something that could only be fine-tuned once we were on the road."
Evoke Studios was able to overcome these potential obstacles thanks to a strong work ethic and collaborative spirit; both internally and with its external partners like Twotrucks. "We've got a great relationship with Evoke Studios," furthered Cunniffe. "We bring the creative direction and the opportunity to work with someone like Ed, and they bring a depth of knowledge and left field approach that is really useful when bringing such big ideas to fruition.
"Between Matt Swoboda at Notch, Vincent and Urs at Evoke Studios, and Matt Cromwell, James Masters, and myself at Twotrucks – we've created a really powerful visual show that's never overpowering for the audience yet draws them into his presence. It's still all about the artist, which is exactly the way it should be."
The freelance team was completed by Neil Harris and Caspar Wain of SHOP Studios and Lydia Cunningham. "Our relationship with Mark is a symbiotic one," confirmed Steenhoek. "There's a lot of respect for what each party does and is capable of doing. Our aim is to create something that Mark can connect with, but that we like too, and he understands that. It's so gratifying to have this kind of working relationship with give and take; Mark trusts us to maintain the high standards he has come to expect from us. We couldn't ask for more."
The Mathematics Tour drew tens of thousands each night across the UK and Ireland, culminating in a spectacular show at London's Wembley Stadium on 1 July 2022. "We've been getting really great feedback and the crew are already looking forward to taking it to South America and Australia," concluded Cunniffe. "It's fast becoming a must-see show, globally, and I think a lot of that success is down to Ed and his manager, Stuart Camp, for having the guts to really go for a show this bold in the first place."
Go behind the scenes of Ed Sheeran's monumental +–=÷x Tour with issue #270 of TPi, which you can read here.