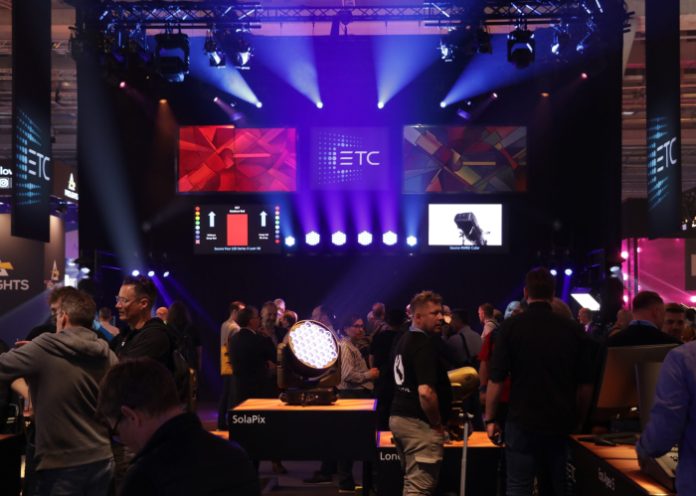 ETC will be returning to Frankfurt for Prolight + Sound 2023 with a showcase of the latest in lighting technology, stage machinery, product seminars and more from the 25th-28th April at the Messe Frankfurt.
On stands C53 and C45 in Hall 12.0, ETC will present a selection of its newest entertainment fixtures and controls including the next generation of ETC's automated framing luminaires: High End Systems Halcyon. This best-in-class range consists of Halcyon Gold, Titanium, and Platinum, offering matching feature sets, exceptional colours, and increased output at a reduced cost.
Visitors will also see the new ColorSource V family featuring both Spot and Fresnel fixtures. With many of the features from premiere fixtures at an accessible price point venues around the world are already excited by their possibilities. With Multiverse wireless, NFC, and a five-colour array that brings both soft pastels and bold, punchy colours, all that's left is to choose between spot or wash!
Having received much attention at the recent USITT Expo in St Louis, the newly launched Source 4WRD Color II will be on the stand. The powerful, new version of the colour-mixing LED retrofit offers an intensity increase of 36% in warm whites and unlocks the world of additive colour mixing for your existing Source Four incandescent profiles.
The latest in lighting control will be available for visitors to interact with including the powerful Eos Apex 10, Apex 5 and Gio @5 as well as High End Systems Hog 4-18. The new line of Eos consoles offers an innovative, programming surface with advanced technology and award-winning software.
ETC product specialists will be on hand to share further information on the latest releases as well as presenting several new seminars during the four-day show. On Tuesday 25, ETC Product Manager for Entertainment Fixtures Jim Uphoff will present 'LED Variance and the need for Calibration' from 12:00 – 13:00 CEST in the Manufacturer's Forum, Halle 11.0. This will be followed by 'Hands-on Hog – Myths, Shortcuts, Tips and Tricks' at 15:00 – 17:00 CEST (in German) by Lighting Designer Andreas Fink, in the same space.
ETC Senior Technical Product Manager Michael Lichter will present an overview of a modern hoist and control system and its benefits on Thursday 27. His session will be presented in German at 13:00 to 13:50 CEST on the Theatre + Light Stage in Hall 12.0. Attendees to stands C53 and C45 will also get a chance to explore the latest rigging solutions with ETC's stage machinery specialists at the show.
This year, ETC will be supporting the Future Talents Day on 28 April at Prolight + Sound; a day for students, trainees and interns to network with industry colleagues.
Market Manager, Rory Fraser-Mackenzie adds: "Prolight + Sound is always a highlight of our trade show calendar, and we can't wait to get back on the show floor and reconnect with our partners and customers. We look forward to sharing in their excitement about these fantastic products and the strength of the industry as it rebounds from the difficulties of the past few years."