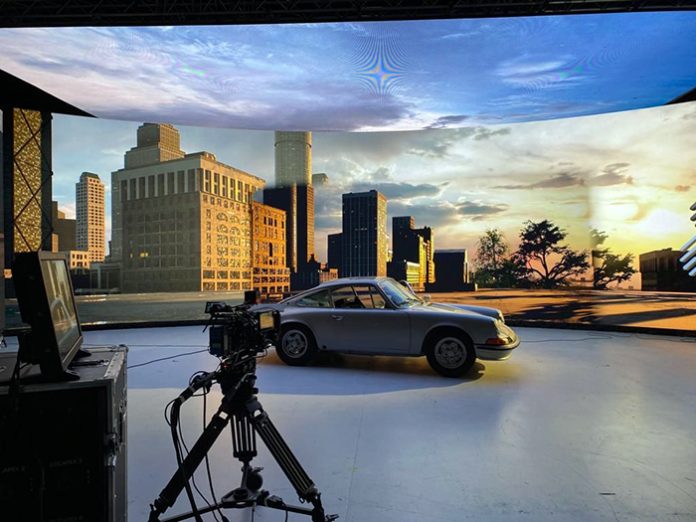 80six recently hosted a series of Virtual Production Discovery Days at its new virtual production studio facility in Slough.
The events were staged in response to the huge appetite for information about virtual production technology and techniques, and allowed those in attendance to gain deep insights into the world of virtual production. Directors of photography, film and TV producers, cinematographers, and representatives of production and post production houses, all took advantage of the opportunity to explore the workflow and real-time technologies required to power both live and on-set productions.
3LR Lighting was an event partner, alongside ROE Visual, Brompton Technology, Cooke Optics and Mo-Sys Engineering. ETC, represented in the UK by 3LR Lighting, was present to demonstrate its fos/4 LED fixtures in a working virtual production environment.
3LR Business Development Manager for Broadcast, Television and Film Lighting, Barry Grubb, commented: "It was great to see ETC present the fos/4 range to an audience of directors, DoPs and other key players in the film and broadcast sectors. It's historically very difficult to gather all the right people in one place at one time, and this event gave us a unique opportunity to meet with, and spend some focused time, talking to key players and decision makers in the industry. It was a chance to show the lights being used within the environment they are intended for, as opposed to a 'dry' demo."
ETC Training Program Coordinator for UK and Europe, Declan Randall, reflected on the success of the event: "We had a selection of fos/4 Panels and Fresnels set up, controlled by our flagship Eos Ti console, within an LED Volume environment. This gave us the opportunity to demonstrate their awesome colour capabilities and incredible output – tested on camera, within an LED backdrop."
According to Randall, the industry is rapidly adapting the use of LED Volume studios. "We were able to demonstrate that the fixtures are not only bright enough, but that the power of the X8 array, including the deep red emitter, makes a significant difference to the light quality and colour rendering. Everyone in attendance was really impressed. I think people were blown away – they didn't know that such a precise degree of colour and control was possible with LED – the deep red emitter was seen as a game changer in the way it homogenised with the LED Volume."
Randall summarised his experience: "It was a great event, and hopefully the first of many. The guests liked the idea of personal invites and clearly enjoyed seeing new products and talking to the teams behind them – I think they found it far more rewarding than seeing the products at a trade fair. It's always fun to show people new products and software, and see them getting excited by the technology. You can almost see the creative sparks flying in their minds as they picture all the future projects they can use the gear on!"
80six Commercial Director, Dan Hammill commented: "The Discovery Days were incredibly successful and inspiring, with industry-leading manufacturers and suppliers all coming on board to present their latest offerings. We thoroughly enjoyed the experience and we're already planning more of the same for the new year."