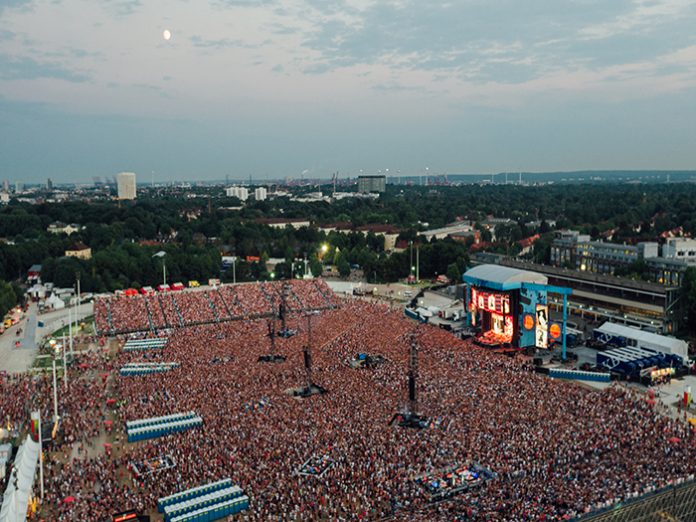 Infrastructure service provider eps supplied 60 truckloads containing turf and ground protection, stage barricade and mobile grandstands during the biggest concert of Ed Sheeran's current European tour at the Hamburg-Bahrenfeld horse racing track.
For the access roads, staging areas, the trenches for escape routes and the foundation of the grandstands, eps laid more than 8,000 square meters (86,111 square feet) of heavy-duty Arena Panels, which corresponds to the area of a football field.
Another 3,400 square meters (36,600 square feet) of the eps Pro turf protection system were added for the pedestrian crossings at all three entrances, the logistics areas at the delay towers and the escape routes to protect the runway.
Matthias Schatz, eps Project Manager, explained: "The entire set-up on the racetrack in Hamburg started ten days before the concert began. 28 trucks were required to transport the ground and turf protection systems, barricade and other infrastructure, and an additional 32 trucks supplied the mobile grandstands. In addition to this enormous amount of material, we also had to cope with the high summer temperatures beyond 30 degrees Celsius (86 degrees Fahrenheit) and the rugged, irregular turf".
eps Department Manager Robin Steffen emphasized: "Balancing the substantial height differences of the escape routes and grandstands was a particular challenge."
Steffen coordinated 8 grandstand erectors and 65 scaffolding erectors with his team, who raised 8 grandstand blocks containing approx. 17,000 seats in 5 days.
"Rarely do concerts of this scale with temporary infrastructure take place. Last year we succeeded with the Rolling Stones concert at Stadtpark in Hamburg, Germany in front of more than 82,000 visitors, and this year organizer FKP Scorpio relied on us again. We are very pleased to have developed and implemented this infrastructure concept for events of this scale with FKP Scorpio and thank them for their continued trust and cooperation," said Steffen.
For eps, however, the Ed Sheeran concert in Hamburg was not the only event. The company collaborated with the tour at Olympiastadion Berlin, at Veltins Arena in Gelsenkirchen and at the double shows at Olympic Stadium in Munich.
eps protected the turf with the eps Pro and Supa-Trac ground protection systems, and between 400 and 1500 square meters (4,300 and 16,150 square miles) of Arena Panels were used for access roads and to support the stage. eps also set up an average of half a kilometre (0,31 miles) of GIGS stage barriers per show, delimiting the outside areas with approximately one kilometre (0,62 miles) of mobile fences, bike racks and crowd control barriers.
Outside Germany, eps also supplied the infrastructure for the Ed Sheeran concerts in Zurich, Vienna, Warsaw, Stockholm, Gothenburg and Australia.