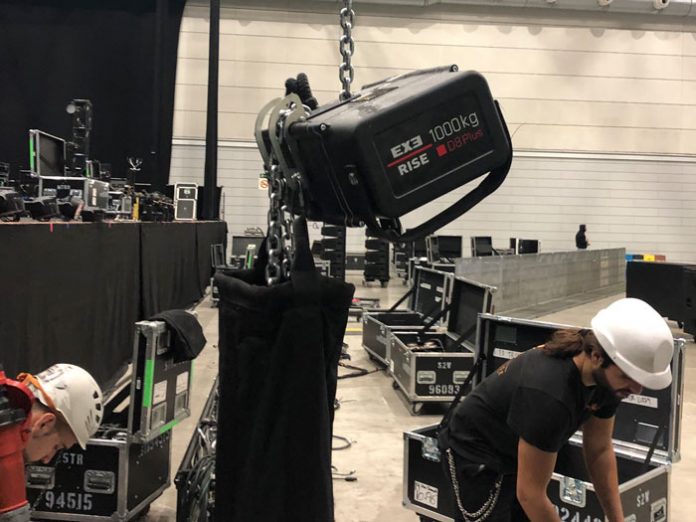 Area Four Industries Direct UK is very proud to welcome one of the UK's most experienced and respected entertainment industry suppliers to the EXE Technology family – Entec Sound & Light.
Established in 1968, Entec is the original sound & lighting production rental company that specialises in equipment rentals, sales and installations for leading live events across the British isles. At the end of 2019, Entec purchased their first round of EXE Rise 1000kg D8+ low voltage hoists and then came back for a second helping in 2020.
When asked about what led to his choice of investing in EXE Rise hoists, Adam Stevenson, Assistant Head of Lighting at Entec said: "They are fast becoming the industry norm. We are well aware of issues arising in certain countries in the EU when using older style LV hoists, which are solved by using a D8+ hoist. We have known Adam at Area Four Industries Direct UK for many years and he's always advised us carefully and honestly."
In relation to when and where he first used EXE Rise hoists Stevenson said: "The first batch we bought went straight out on the Dream Theater European Tour for our Sound Department. They are still out for quite a few weeks more.
"The intention is for them to become our inventory hoist so used on all projects. When our new batch arrives, they are likely to be used on the Editors UK tour first of all."
When asked if he is satisfied with the knowledge of the Area Four Industries Direct UK office and service they provided Stevenson said: "Yes. As you can tell from my previous comments, we are very satisfied."
EXE Rise hoist are the "go-to" hoists for leading production and rental companies in London, the UK, and all over Europe. Their quality construction, reliability and durability are winning the hearts of live production professionals across the globe, whose reputation relies strongly on the equipment they choose for bringing their events to life.