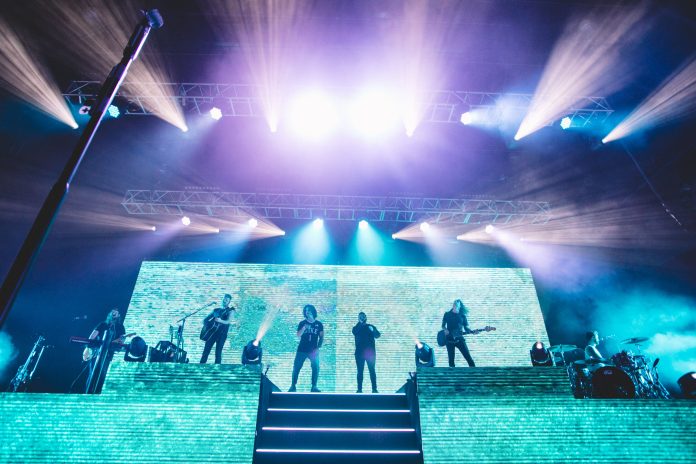 With the release of their third studio album, the Grammy, ACM and CMT Award winning duo Dan + Shay are solidifying their place as two of the most talented vocalists and songwriters today. Having already worked with a number of different musicians on a myriad of chart-topping hits, the Warner Music Nashville/Warner Bros artists recently launched their largest headlining tour to date. Needing an expanded production package that included a significant LED video presence, production and lighting designer Jeff Mathews of Borealis Stage Lighting, a Nashville based design firm, worked with Elite Multimedia Productions who supplied a dynamic package of FLEXLite LED video from PixelFLEX.
"I've worked with Dan + Shay for about four years now, and this year they really wanted to expand their product design to include the addition of more LED video for their 2019 Headlining tour 'Dan + Shay The Tour'," began Mathews. "While we have implemented video elements in the past, they love the silhouette look against large video screens. Knowing we would have to find a way for both the expanded LED video and moving light package to work together, we created a couple of different concepts to work through with Dan and Shay (Dan Smeyers and Shay Mooney) and their creative team, and it turned out great."
As the design prepared to move forward, Mathews and Production Manager Emery Flynn would need to find the right production partner who could provide both a quality LED video solution, and an affordable rate. Understanding the challenges that come from life on the road, they also required a partner who could provide the ideal support for the touring technology.
"Since this would be the largest production package they have taken on the road, we started by looking for a video supplier who had a product that looked good on tour and was also budget-friendly," added Mathews. "Once we began shopping around, Elite Multimedia Productions really stepped us and took care of us. They not only gave us a great deal on a quality PixelFLEX LED video touring system, but they also provided a fantastic video technician, Jimmy Ruderer, who has joined us on tour, and has been an indispensable asset all around."
With the LED video solution now in place, Mathews and Flynn turned to the Nashville-based Gallagher Staging to help create the framework for the new design. As neighbours to Elite Multimedia Productions, the two companies were able to work closely together to finalize the touring structure that could be brought to life by the shows video producers.
"In the design we have a large, upstage video wall that measures about 40-feet wide and 15-feet tall," explained Mathews. "We then have two more LED walls as the facia for the riser set up, and LED edge light inlaid in the stage risers fabricated by Gallagher Staging, and the flown and ground moving light package supplied by Borealis Stage Lighting. For the video content, the artist and management team turned to Patrick Tracy of PTracy Media, who they have worked with in the past for the majority of their music videos, and who is an excellent video producer and creative director. Patrick brought on a company called Wasted Potential to team up on producing video content for the tour. Everyone did an amazing job of working together to create a completely custom design with interesting color schemes and custom artwork for each moment of the show."
Utilizing a road crew of six technicians, the 2019 Dan + Shay tour was now set to head out across North America, playing a number of different venues from large theatres to small arenas. With time of the essence each night, it is not only the artists that must be ready to take the stage, but the production gear must be ready to perform as well.
"On the road, you have to find a way for all of the production elements to work together quickly and easily, and Elite Multimedia Productions honestly cares about making sure we are fully supported on tour," concluded Mathews. "At the beginning of the run, they were even on site to make sure everything video related started off smoothly, and if we ever need service, they are always quick to respond. Their product is good, their budget was perfect, and their people are awesome. You can't ask for much more than that."
Also special thanks to Premier Global Productions for providing excellent rehearsal space and additional lighting and power infrastructure for the tour.