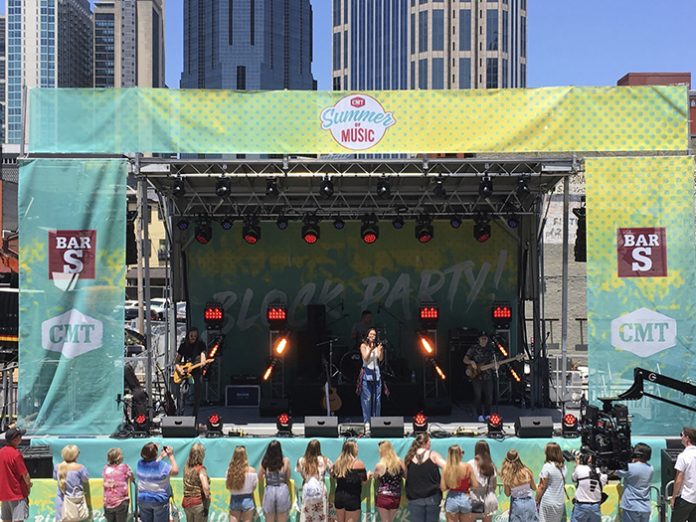 Overseeing the planning and execution of CMT Bar-S Block Party and the CMT Pedigree Paws & Play Festival was Los Angeles-based Living Color Events and their Nashville partner Von Parish Productions needed a trusted provider to assist with the creation of two festival production designs, so they worked with Elite Multimedia Productions who provided the onsite audio and lighting support.
"This was our second year working on the weekend events and according to our mandate from CMT, they wanted to establish an exciting party atmosphere for their sponsorship marketing platforms taking place in conjunction with the CMT Music Awards," began Marc Burton, Living Color Events. "We would have seven country music artists performing over the course of the event with approximately 3500-4000 attendees, and everyone was extremely happy with the level of production we were able to provide."
"The first year we held the event at the Bridgestone Arena Plaza and this year it was moved to the Schermerhorn Symphony Plaza," continued Burton. "Working with our production team, we needed to come up with the best way to physically present the concert, but it was a bit of a challenge because the venue is a long, narrow space. Since we are based in Los Angeles, Harry Shaub at Elite Multimedia Productions was basically my onsite eyes, ears and hands for the technical elements. He went out to do several measurements and really helped us finalize the layout of the production design."
With the designs now finalized, the team was able to move forward in making the necessary preparations for a smooth load-in. Occurring as part of a series of festivities surrounding the annual CMT Music Awards, the production team would be working throughout the weekend producing the variety of events.
"This was a bit unique in that Elite Multimedia also helped us with the CMT Pedigree Paws & Play Festival at Cumberland Park just two days before as well," added Burton. "They basically loaded-in Paws & Play on Saturday for a Sunday performance, then struck the show Sunday night and loaded everything in at the Schermerhorn on Monday morning. In the end, we set up the SL150 truck stage, provided by Premier Global Production, across from the steps facing the building, and then Elite Multimedia brought in the sound reinforcement, lighting fixtures, and all the truss elements."
Time now to open the gates to the block party, Burton was excited to see the "carnival" atmosphere come to life. Knowing the amount of dedication that it took behind the scenes to reach this point, he was grateful for the commitment shown by the Nashville-based production provider.
In a fast-paced production environment such as producing multiple events over the course of a weekend, time is one of the most valuable assets. By working with a production provider who was able to oversee all the technical aspects of the design, Burton was able to free his time and remain focused on the overall success of each project.
"To be honest, I feel like Elite Multimedia Productions is my Los Angeles secret in Nashville," concluded Burton. "It's really nice to have somebody that I can be confident in to not only get the job done, but also do it in a way that I do not have to micro-manage. The fact that they are so knowledgeable really frees up my time to focus on the other aspects of the show. If you are looking for a complete turnkey provider who can manage all the technical production aspects of your event, Elite Multimedia Productions is the place to go."