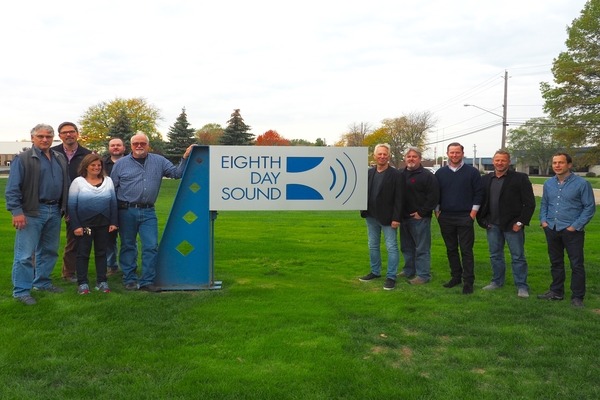 Building on a long and successful business relationship, Cleveland-based Eighth Day Sound has joined Adamson Systems Engineering's sales network on the back of significant installations at the corporate headquarters of a U.S.-based Fortune 500 company and the University of Buffalo.
Jack Boessneck, Executive Vice President of Eighth Day Sound, commented: "Adamson's reputation in the live sound industry is second to none. We've enjoyed a very rewarding relationship with them on the touring side of our business, so we recognised the potential to grow our respective businesses by taking our partnership to the next stage."
"Every time we've invested in Adamson over the years, we've seen immediate and significant returns, and their recent developments like the new install-focused IS-Series have us excited to expand that trend from a sales perspective," Boessneck added.
As one of the top sound reinforcement solution providers on the planet with offices in Cleveland, Los Angeles, the U.K., and Australia, Eighth Day Sound has provided Adamson loudspeaker systems for tours by major artists like Shawn Mendes, The 1975, and Nick Cave, as well as events including Drake's OVO Fest and Red Hot Chili Peppers' sold-out 2017 dates in Dublin, Ireland.
In fact, Eighth Day Sound's Owen Orzack was instrumental in introducing Adamson's compact S-Series loudspeakers to the touring market, with the S10 2-way true line source enclosure now being a staple of high-end systems for top international touring acts and major music festivals.
 
Now, Eighth Day Sound has recognised an opportunity to bring top-tier performance and service to clients across both its sales and integration divisions, including rental companies, performance venues, corporate facilities, houses of worship, and beyond.
Eighth Day Sound's Director of Installations, Tom George, has already outfitted the corporate headquarters of a major U.S.-based Fortune 500 company with a substantial IS-Series system which, at the time, was the first of its kind in the world.
"Put simply, the IS-Series takes Adamson's proven tour-grade technology – which we've been confidently standing behind for years – and loads it into sleek, architecturally-friendly boxes that blend seamlessly into virtually any space," continued George. "We've had great success with it in benchmark installations already and look forward to delivering quality sound and performance to future clients with Adamson's strong customer support behind us."
 
"
We're proud of our longstanding relationship with Eighth Day Sound and thrilled to be adding them to our sales network. Once again, Eighth Day is ahead of the curve in recognising the opportunities available as we continue to grow in scale and scope and we look forward to working closely with them to deliver high-performance audio and great service to their customer," concluded James Oliver, Director of Sales and Marketing for Adamson.