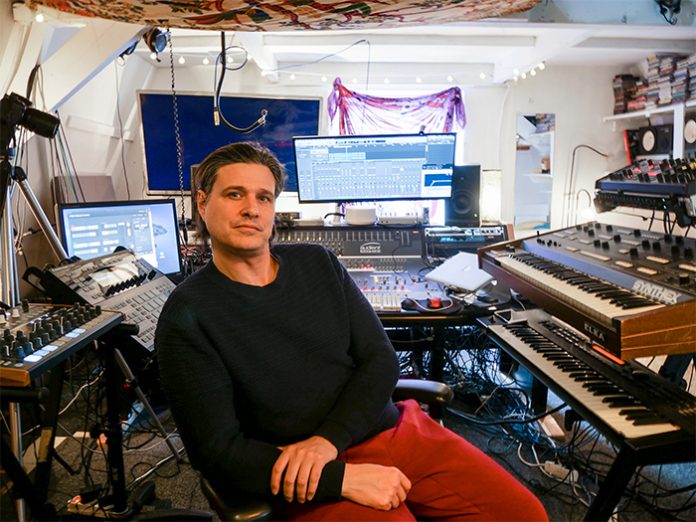 Refusing to be hampered by the COVID-19 pandemic, producer Yigal Roos has fully embraced being shut in his Amsterdam studio by starting a weekly live music stream from his studio via Instagram, YouTube and Twitch. Under the name Ascension Music, he produces an array of electronic music and has developed a unique way of incorporating an Audient ASP4816 desk into his live mixes. "The console basically allows me to connect everything and use my outboard effect sends live on the fly," he explained.
"I really use the mixing desk as an instrument. I do volume automations using faders, I do a lot of sends and then I also play instruments in real time to add to the vibe of the song. You can also easily connect other artists and guest musicians into the session," he says. "It's a very intuitive desk and very easy to use."
Yigal's Studio De Pijp takes its name from the vibrant Amsterdam neighbourhood where it's located. It is a hybrid setup comprising NI Maschine Studio, analogue drum computers such as the Arturia Drumbrute and a bunch of synths, including Synthex, Virus C and the Roland XP30 which he uses as his controller keyboard. "He has two computers: one Macbook Pro running Logic Pro X with 2 Apogee Rosetta 800s to record the live sessions, and one running Logic Pro X, Ableton Live and NI Maschine Studio with an iD44 audio interface and a Ferrofish Pulse 16 converter to produce the sessions.
"Assuming the drum computer is running, I'd have separate outputs for the kicks, snares, rim shots and hi-hats, and the desk allows me to control the mix on the fly and really make it into a really organic performance," he said, appreciating the Audient console's connectivity. "In addition to the 16 buses, you also have separate sub-group outputs so that allows you to make sub-mixes fairly easily and record them as well. Plus you have inserts on almost every channel – also on the tape returns and mic/line inputs.
"I use the desk compressor a lot which is amazing," he continued. "As well as all the aux-sends and EQs of course. What I love about it is that I have all the controls in front of me. I don't need to dive into menus or search for things – everything is right in front me. So if something isn't working, it's easy to trace back the audio path of the signal."
It will come as a surprise to learn that Yigal used to run a fully digital studio, not so long ago. "What a difference the Audient makes! Nothing beats analogue and the summing is great," he enthused. "There's always more headroom. It doesn't matter what I do – it just sounds good."
Using iD44 as his main audio interface in the recording chain means he's using the same preamps as the console. "The 16 channels of ADAT in combination with the Ferrofish allow me to connect up to 24 outputs concurrently. With its pristine conversion the sound is really amazing – and it always works," he remarked.
When he's not working on Ascension Music, he's composing commercial beats under his producer name, Triple X Beats. Singers and artists around the world looking for original music to create their own songs need look no further.
Yigal is enjoying spreading his message of positivity with his weekly Ascension Music livestream where he hopes to connect as many people as possible. "Are you looking to collaborate? If you're a singer, percussion player – or even spoken word, it doesn't matter – hit me up! Let's do something together!"
www.ascensionmusicexperience.com