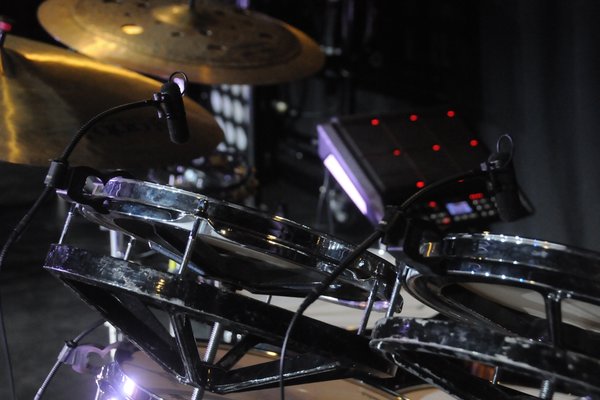 John Mark McMillan, platinum-selling songwriter, recently hit the road in support of his latest album, Mercury & Lightning, alongside long-time Front of House Engineer/Tour Manager (and brother) Chris McMillan.
The FOH Engineer relied on a selection of DPA Microphones to provide crystal clear, natural sound for the 3-month tour. "The results were night and day," he said. "Everything sounded so natural, especially the drums. We weren't fighting a lot with the drum bleed like we had in the past. I knew John Mark and the band would love them and knew we needed to have them."
For the Mercury & Lightning Tour, McMillan added DPA's d:facto 4018VL Linear Vocal Microphones and d:dicate 2011 Cardioid Microphone on guitar amps, bass amps, the snare drum and as a spot mic for acoustic segments, along with the d:vote 4099 Instrument Microphone on toms and outside kick drum.
"The band instantly fell in love with the DPA microphones," added Chris. "John Mark is blown away by how great his vocals sound with the d:facto. He is not pushing by the end of the night because he is not overexerting himself trying to make up for something he is not hearing. Our drummer loves the 4099's because we plug in and everything is just clearer, fuller and frequency-rich. In addition to the amazing sound we get using the d:vote 4099's on the drums, the d:dicate 2011 does an incredible job on the guitars. The mics and amps are so smooth and the drum bleed is negligible. All of the DPA mics deliver such a big sound."
McMillan has also used the d:dicate 2011 for some acoustic segments during the concert with great results. "House engineers immediately asked what we were doing because they couldn't believe how natural the acoustic set came off," he says. "The vocals and the guitar sounded like they were right in front of you, but you were really 50 feet back."
Chris also finds the engineering of DPA's microphones to be second to none. "In the d:vote 4099, DPA has created an instrument microphone/mount combo for every situation. From strings to drums, it's amazing how great they all sound. It's also very cool seeing how you can just move the mic around and get a different sound. The d:vote 4099 is truly a one size fits all mic."
When Chris is not on tour with his brother, he handles the sound duties at his local church where he has also employed DPA mics. "After hearing the d:facto vocal mics, we ordered four of them the next day for the church," he says. "The improvements that the d:facto 4018 has made to the overall sound at the church is incredible. Tonally, everything is so rich. The vocals are so clear. We couldn't be any happier with DPA and plan on using them going forward."