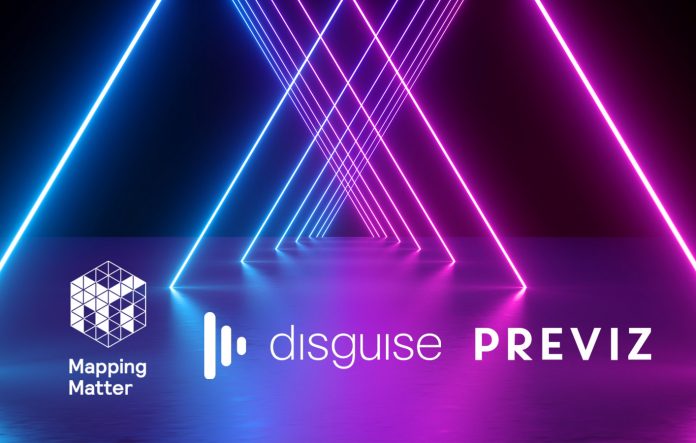 disguise has acquired Mapping Matter and Previz, paving the way for remote collaboration and cloud-based 3D content previsualisation, made available through the disguise platform.
The acquisitions mark the next step in the company's rapid growth, after investments from the Carlyle Group and a minority stake from Epic Games, which were announced earlier this year.
Both Mapping Matter and Previz share an established reputation for delivering interactive cloud-based solutions for designers anywhere in the world. Ongoing development through disguise will provide access to comprehensive workflows with content engines such as Unreal Engine, which will collectively enable design, sequencing, calibrations and validation, with a pipeline of new functionalities set to be released.
A web-based tool for technical design, Mapping Matter plays an important part in the simulation and photometric analysis of AV installation projects. Released in 2016 to make the process of creating video projection technical designs more fluid, the platform has since been trusted by live design teams working for the likes of Cirque du Soleil, Moment Factory and Creative Technology.
Mapping Matter Founder, Francois David said: "Over the years, I've come to know the team at disguise not only as great innovators and leaders in the industry but as a group of great humans. I'm thrilled that they are excited to take the lead and expand upon the Mapping Matter workflow."
Previz was launched in 2017 by creative studio and long-term disguise workflow practitioners dandelion + burdock who envisioned a seamless workflow to design assets creatively, plan projects effectively and communicate ideas confidently, all from one browser. The platform has since been used across both live and virtual events for global brands such as the BBC, Fitbit and Land Rover.
Previz founder Niall Thompson said: "We set out in 2016 to be the industry-leading platform for content review and approval for live visual experiences. Joining forces with such a forward-thinking, ambitious company is what takes us into this next chapter."
disguise CEO, Fernando Kufer welcomes the acquisition of Mapping Matter and Previz to mark a new period in their platform's growth. "We are incredibly excited for this new chapter in our mission to democratise production workflows with the addition of Cloud-based collaboration to the disguise platform," he said. "We have been working closely with the teams at Mapping Matter and Previz over the years and our shared vision for remote collaboration has enabled us to join forces to deliver a more comprehensive and streamlined solution for all our users to create their best story. We are thrilled to welcome customers of both Mapping Matter and Previz to disguise and look forward to a bright future together."