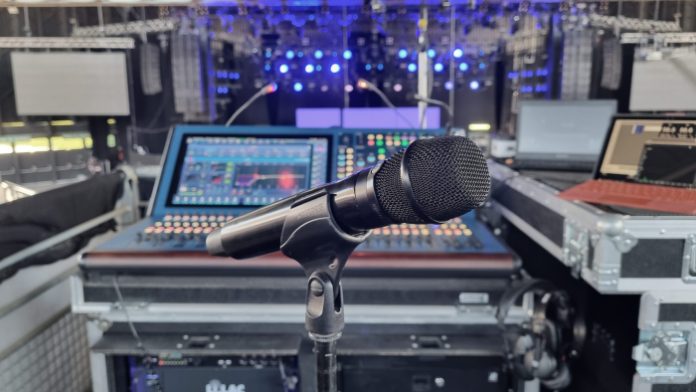 For Deep Purple's triumphant return to European stages, Ian Gillan, the band's lead singer, has adopted the new Shure KSM11 wireless vocal microphone capsule. Designed specifically for live performance, the KSM11 ensures vocal clarity and transparency that can cut through the mix on the loudest, hardest-rocking stages on earth.
From Finland to Spain, Deep Purple will be playing across the European continent in a tour that will last several months. The acoustic conditions on stage are particularly special and delicate, as the band works entirely with conventional monitoring. Given the band's unique blend of hard rock, audiences can expect Deep Purple to get extremely loud on stage.
FOH Engineer, Tobi Hoff tested the Shure KSM11 during Deep Purple's rehearsals in May. After hearing the KSM11, he decided to work with the new microphone capsule combined with Axient Digital AD2 handheld transmitters throughout the whole European tour.
"We just finished the first months of the tour, and we have only used the KSM11. Ian Gillan's voice is transmitted crystal clear and transparent," he concluded. "Crosstalk from the other instruments to the vocal mic is lower with this new microphone capsule. This is important as it keeps the FOH mix tidy and constant. Overall, the KSM11 sounds a touch more rock 'n' roll."
Since its launch in April, Shure KSM11 wireless vocal microphone capsule has been trusted by some of the industry's biggest names. In developing the KSM11, Shure worked closely with audio professionals, actively seeking feedback on how to best deliver the most natural, transparent, and high-clarity sound without the need of additional processing.
With Shure's KSM11, audio engineers can spend less time worried about meticulous signal processing and focus on capturing the artist's vocal performance. Even in the toughest, loudest acoustic environments, the KSM11 wireless vocal microphone ensures excellent clarity for all vocals. Deep Purple fans from all over Europe will be able to enjoy the most natural and clear sound of Ian Gillan's voice while he rocks the new wireless microphone capsule on stage.