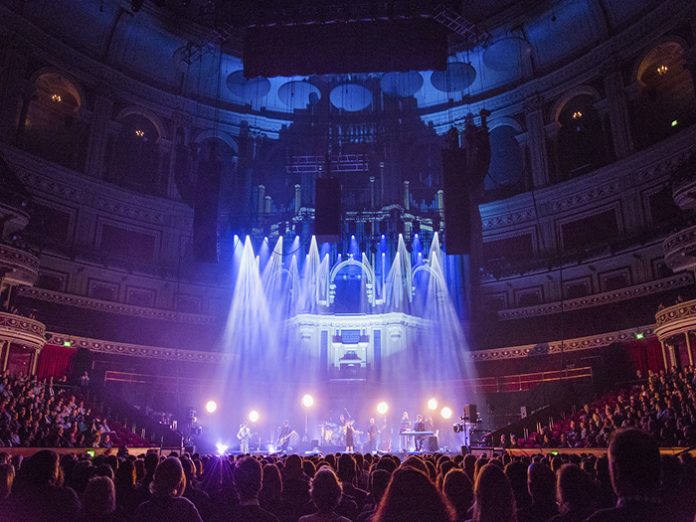 Imelda May has completed a short run of concert dates, where Bob Geldof and Ronnie Wood were among her special guests. Capital Sound, the artiste's equipment vendor for the past 7 years, fielded its flagship Martin Audio MLA PA in a new sleek format, tailor made for the Royal Albert Hall.
With a new FOH engineer in Waynne Smart, and a requirement to provide 270° coverage (only the choir stalks at the rear were left empty), they deployed a more compact and efficient system that had first been successfully trialled at the Royal Albert Hall with shows by Roger Hodgson and the Beach Boys. Capital Sound Director, Paul Timmins, explained why the Royal Albert Hall had necessitated changes for their front-line PA's: "We wanted to introduce an easier way of rigging that would no longer conflict with the Hall's big lift," he explained. "We were conscious that our system design hadn't changed in a while and, during that time, loudspeakers have become much lighter; we needed to look at designing a universal rigging package that would be more beneficial from a loading perspective."
The PA consisted of 12 flown MLA elements per side, supported by 11 MLA Compact on each flank for outfills (rather than the previous 12). The central hang comprised 4 MLX subs, 1 reversed. Providing low frequency at ground level were 3 further MLX recessed under the stage, with 1 reversed. The main and side hangs were flown from Capital supplied single mother trusses, and picked up on 2 points via house motors. Capital then deployed 2 motors per hang, giving them full independent control. "We can not only get much more accurate focusing using these two points, but it means that neither the main or side hangs are moving around," Timmins said.
Capital's Robin Conway also investigated means of reducing the amount of equipment by introducing a central sub hang. "We didn't always fly subs before, but for a circular room, it is better in terms of time alignment," stated Timmins, adding that the final icing on the cake is the ability to now fit the PA into a 25-tonne truck rather than an Artic.
Another piece of ingenuity was the deployment of a Martin Audio PSX 15in self-powered sub on each side, to 'warm up' the seats at the top of the stairs. "We use the system's Powerplant to run 2 DD6 speakers on each side across the front of the stage," Paul Timmins continued. "There is a DD12 on each side half way up the stairs and another 2 DD12 flanking the DD6s, but the advantage is there is no need for any external amping — and everything is on the network."
Finally, Capital Sound provided some Martin Audio LE1500s for stage monitoring purposes. MLA showed its worth when May performed several songs on a B stage near the FOH desk accompanied by just a guitarist. The FOH engineer had been able to achieve plenty of level on the vocal without any sign of interference — despite being so far in front of the PA. Equally impressed were Production Manager, Paul Allen, and Tour Manager, Brett Spence. Finally, for sound, Waynne Smart mixed on an Avid Profile and monitor man, Fran Bemrose, was aboard a DiGiCo SD10.